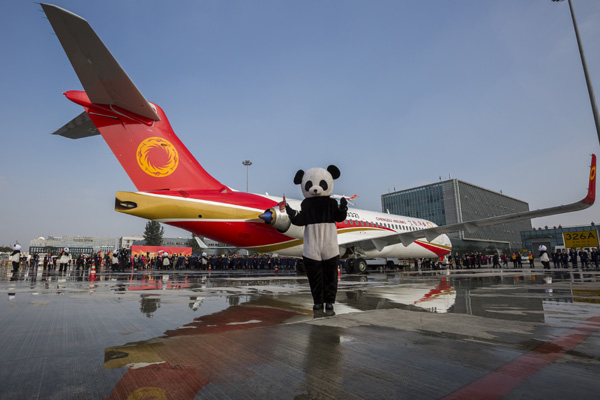 Chengdu Airlines crew members celebrate the plane's delivery, Nov 29, 2015.[Photo by Chen Xiao/Asianewsphoto]
Zhang Lang, a young resident in Sichuan province, had a selfie at the tail of the ARJ21 which is China's homegrown regional jetliner on Sunday afternoon as an endless stream of people posed for photos on its other sides.
"It's the first time I have seen China's homegrown regional jetliner and I will share the photo with friends online," he said.
At 1:17 pm, China's first indigenously designed regional jet delivered by the Commercial Aircraft Corp of China (COMAC) landed in the Shuangliu International Airport in Shuangliu county, Sichuan, after flying from Shanghai.
The Chengdu Airlines have ordered 30 ARJ21 jets from the State-owned COMAC. The first arrived in the Shuangliu airport on Sunday and the rest will arrive within the next five or six years, said Huang Weicheng, an information officer with the Chengdu Airlines.
"The ARJ21 with 90 seats are expected to fly from Chengdu to Beijing, Shanghai, Guangzhou, Shenzhen, Xi'an, Nanjing and Guiyang," he said.
The ARJ21 is China's first regional jet made in line with international standards. Its maiden flight was in Shanghai on November 28,2008 after the project started in April 2002.