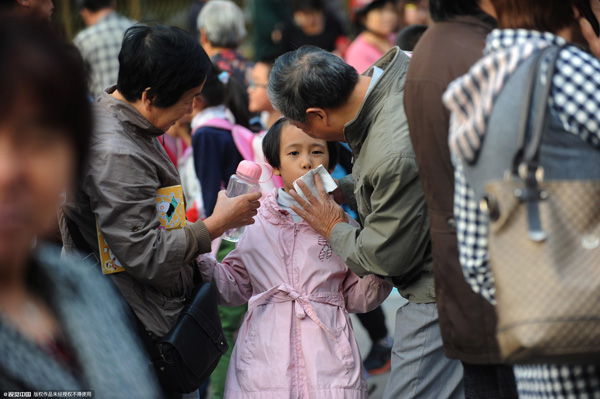 A girl is surrounded by her grandparents at the gate of an elementary school in Jiaxing city, East China's Zhejiang province on Oct 15, 2013. [Photo/CFP]
"China would continue to stick to the family planning policy," according to the statement, though the new policy is a fundamental change compared with the one-child policy.
The one-child policy put forward in the late 1970s aimed at slowing the fast population growth caused by a baby boom appearing in the late 1960s and early 1970s after the country recovered from three years of natural disasters in the early 1960s.
Controlling population size has become the country's top priority after taking into consideration the large population base, fast growth and people's poor livelihoods, recalled population expert Tian Xueyuan, who attended the five forums on population policy along with many experts in 1980.
The year 1982 witnessed the one-child policy becoming a basic state policy, after the policy was written into the Constitution in March 1978.