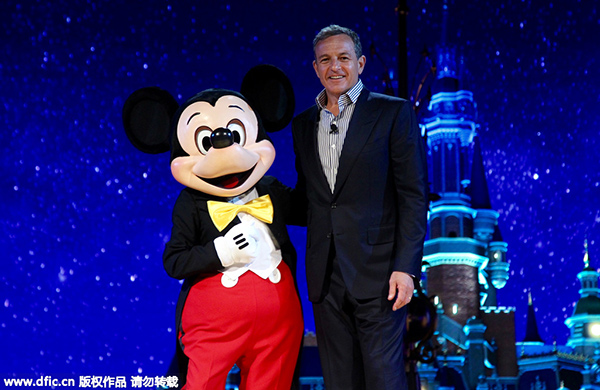 Disney Chairman and CEO Robert Iger, right, poses with an entertainer dressed in a costume of Micky Mouse during a launch ceremony to unveil a scale model of the Shanghai Disney Resort at Shanghai Expo Center in Shanghai, China, July 15, 2015. [Photo/IC]
China's two-child policy would greatly benefit the Walt Disney Company, said CEO Robert Iger at a global meeting of University of Southern California in Shanghai on Friday.
"Thanks for sending us more kids," Iger joked, adding that he wanted to write a thank-you note to Chinese leaders.
The government announced an end to its more than 30-year "one-child policy" on Thursday, which means about 90 million families will become eligible to have a second child and the country's population is expected to expand to an estimated 1.45 billion by 2030.
Iger said it's a good opportunity for Disney as now there will be more children, which means more younger visitors will go to the company's amusement park in Shanghai in the future.
Shanghai Disneyland, whose construction started in April 2011, is set to open in the spring of 2016.
As the first Disneyland Park on the Chinese mainland, Shanghai Disneyland reportedly mixes in the local culture, so that visitors can not only play in a Western Disneyland but also experience Chinese culture.
"China is the world's most populous country and the most dynamic economy, especially Shanghai, a place which is full of innovation and fresh vitality," said Iger, adding that all Fortune 500 companies regard Shanghai as a vital and inspiring city and would like to be present there.
China's new population policy further eases the country's child policy in late 2013, when it allowed couples to have a second child if either parent is an only child.
Liang Jianzhang, a Chinese expert on population, estimates that 2.5 million more babies will be born every year as a response to the new second-child policy.