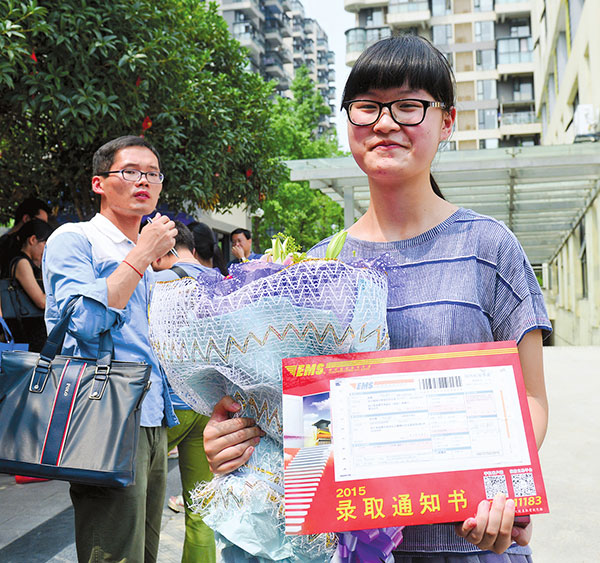 Zhang Yixiang shows her enrollment notice from University of Electronic Science and Technology of China in Chengdu, Sichuan province, on Tuesday. The notice was the first received in the province this year. Lyu Jia / for China Daily
Universities are not allowed to luring students with unreasonable perks such as excessive scholarships or placement promises, the Ministry of Education announced on Wednesday in a notice regulating university recruitment.
Universities should not attract students with improper benefits, including preadmission contracts, large scholarships or promises that they can choose different majors after enrollment, the ministry said.
The notice was released after two prestigious schools in Beijing - Tsinghua University and Peking University - criticized each other in an effort to attract the top scorers on the gaokao, China's national college entrance exam.
In late June, recruiting teams at Tsinghua and Peking posted micro blogs that accused each other of "buying" students and making promises that couldn't be fulfilled, such as transferring students into more desirable programs after enrollment.
Both universities denied the accusations in online responses, claiming that they had strictly followed recruitment rules.
It is not the first time that universities have battled for the country's top students. Recruitment teams typically phone top students before scores are even released, offering them campus tours and inquiring about their preferred programs.
Recruiting teams at two universities in Guangdong province were reported to have besieged a highly sought student at the gaokao.
At a high school in Guangzhou, Guangdong province, recruiters from Peking and Tsinghua universities approached Ye Tong, one of this year's top 10 gaokao scorers. Recruiters asked to speak with Ye in an effort to persuade her to attend their universities, Yangcheng Evening Newspaper reported in June.
Qin Chunhua, director of Peking University's Institute of Examination Research, said such incidents are a result of China's gaokao system.
"In China, where gaokao results are the only criteria for universities to recruit students, people usually rate Chinese universities on the basis of their admission marks.
"The higher a university's admission marks, the more high-scoring students a university recruits, the better the university will be in people's eyes," Qin said.
Qin's remarks were echoed by Xiong Bingqi, vice-president of the 21st Century Education Research Institute.
"Admission marks and the number of gaokao top scorers recruited have also become major factors to judge the quality and reputation of a university in some of China's university rankings," Xiong said. "Under such circumstances, even prestigious universities like Tsinghua and Peking have no choice but to chase after gaokao top scorers."
Luo Wangshu contributed to this story.
zhaoxinying@chinadaily.com.cn