Xi gets royal invitation to make visit to Britain
By Zhao Shengnan ( China Daily )
Updated: 2015-03-03 07:51:38
President meets Prince William and says Sino-UK ties set to hit fast track
President Xi Jinping received an invitation on Monday from Queen Elizabeth II to visit Britain.
It was conveyed by Prince William, the most senior British royal to visit China in nearly three decades, during a meeting that covered various topics, including soccer and the impending birth of the prince's second child.
Xi told Prince William, the Duke of Cambridge, who is second-in-line to the British throne, that he looks forward to visiting Britain this year and jointly mapping out the future of Sino-British relations.
Observers said confirmation of Xi's acceptance during the highest-profile visit to China by a member of the British royal family since 1986, highlights obvious progress in a relationship that has been strained by issues including the Tibet autonomous region.
Xi said in Beijing that the relationship between China and Britain is heading for the fast track, highlighting two-way annual trade worth $80 billion and cooperation in sectors including finance, nuclear power and high-speed railways.
He hailed the British royal family's influence worldwide and its contribution to enhancing cooperation with China on trade and environmental protection.
He also welcomed the prospect of more royals visiting China.
Ma Zhengang, a former Chinese ambassador to Britain, said the UK government has shown its desire to upgrade ties by sending the 32-year-old prince on his most important diplomatic mission.
This momentum is expected to continue, especially with Britain's wish to boost economic ties with China, Ma said.
Past frictions were set aside as Xi congratulated the prince on the forthcoming birth of his second child and discussed their common passion for soccer.
The president said China wants to learn from leading teams about developing the game, including those in Britain.
The prince, who has long been fascinated by China, said his aim is to increase cooperation, particularly in strengthening exchanges between young people.
The royal visitor also strolled through the Forbidden City on Monday and visited a traditional courtyard house in a hutong that has been turned into a museum by charities associated with his father, Prince Charles.
He chatted with representatives from charities working for children and young people from disadvantaged backgrounds, before receiving a hand-drawn painting in the museum.
Duan Chuncai, a 16-year-old from Yunnan province, said her interaction with the prince had inspired her to continue her English studies and had given her a first glimpse of a British royal.
After visiting Beijing, the prince traveled to Shanghai on Monday where he was due to meet business leaders.
He will end his four-day trip to China in Yunnan, where he will visit an elephant sanctuary and nature reserve.
zhaoshengnan@chinadaily.com.cn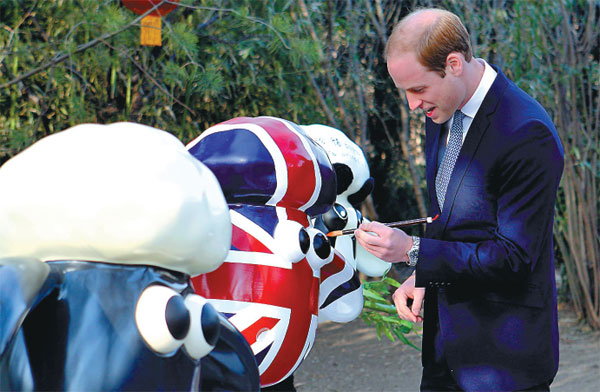 Prince William paints the eyes of Shaun, a major character in the British animated TV series Shaun the Sheep, in Beijing on Monday. Wang Zhuangfei / China Daily
(China Daily 03/03/2015 page1)

We will not give up search, Li vows
International hunt for missing airliner continues after fruitless six-day search