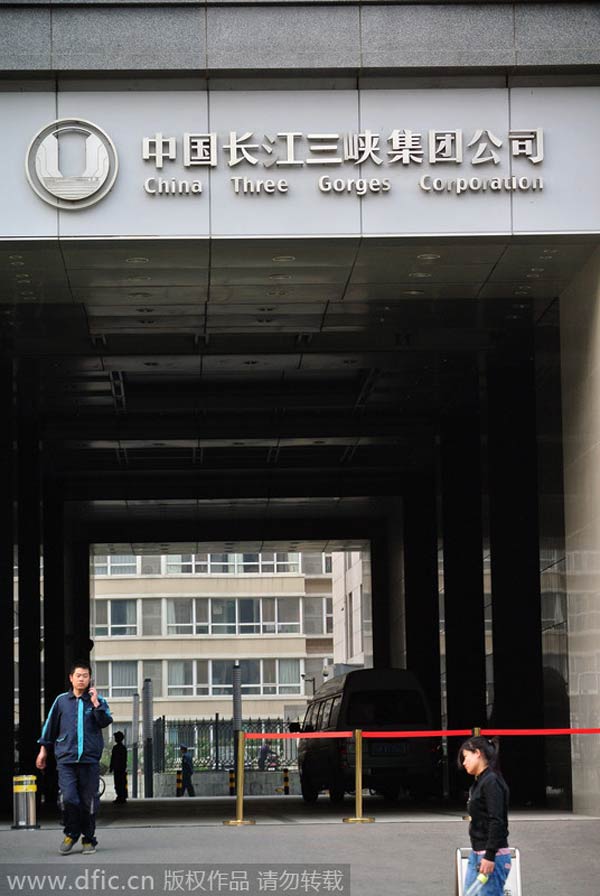 Pedestrians walk past the headquarters building of China Three Gorges Corporation in Beijing, April 1, 2014.[Photo/IC]
SINGAPORE - China Three Gorges Corp, the operator of the world's largest hydroelectric power project, is joining a line of State-run Chinese companies looking to issue bonds overseas for the first time.
The company sent out a request for proposals this month and responses were due last week, said two sources familiar with the situation, adding that the offering could materialise in the second quarter.
JP Morgan is expected to be one of the joint global co-ordinators, according to other bankers who have seen the RFP.
The tenors and format of the offering had yet to be decided, said one of the sources. The issuer is looking at multiple currencies.
The deal underlines the determination of Chinese State-owned enterprises to reduce their reliance on domestic bank loans and bond markets, coming even as onshore funding costs have fallen sharply. The local 10-year government benchmark is down 30bp since the start of the year and down 110bp over the last 12 months.
Last year, State-owned companies issued G3 bonds of $59.7 billion, up from $35.0 billion in 2013 and just $500 million in 2009, according to Thomson Reuters data.
While State champions, such as China Three Gorges, are able to tap into strong domestic liquidity in a market that expects further monetary easing, they are also aware that local markets can be volatile. China Three Gorges was forced to delay MTN issues in 2013.
China Three Gorges has about 90 billion yuan ($14.4 billion) in bonds outstanding up until 2033, with about 19 billion yuan due just this year, according to Thomson Reuters Eikon.
The company has relied entirely on domestic investors for its previous bonds. Its most recent transactions include a two-tranche offering of medium-term notes totalling 10 billion yuan ($1.63 billion) last March, split between a 5.5 percent 5 billion yuan three-year and a 5.69 percent 5 billion yuan five-year.