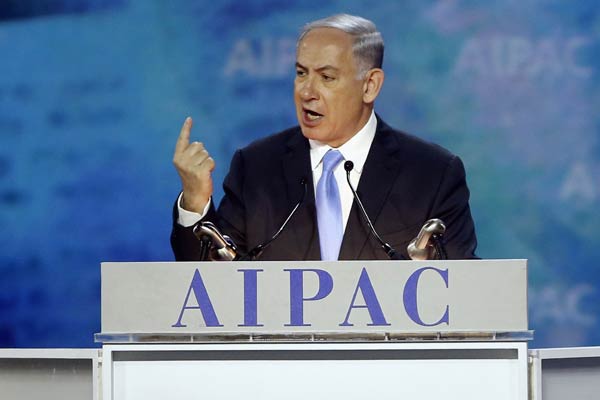 Israel's Prime Minister Benjamin Netanyahu gestures as he addresses the American Israel Public Affairs Committee (AIPAC) policy conference in Washington, March 2, 2015. [Photo/Agencies]
WASHINGTON - US President Barack Obama and Benjamin Netanyahu clashed over Iran nuclear diplomacy on Monday on the eve of the Israeli prime minister's hotly disputed address to Congress, underscoring the severity of US-Israeli strains over the issue.
Even as the two leaders professed their commitment to a strong partnership and sought to play down the diplomatic row, they delivered dueling messages - Netanyahu in a speech to pro-Israeli supporters and Obama in an interview with Reuters - that hammered home their differences on Iran's nuclear ambitions.
Neither gave any ground ahead of Netanyahu's speech to Congress on Tuesday when he plans to detail his objections to ongoing talks between Iran and world powers that he says will inevitably allow Tehran to become a nuclear-armed state.
Netanyahu opened his high-profile visit to Washington on Monday with a stark warning to the Obama administration that the deal being negotiated with Tehran could threaten Israel's survival, saying he had a "moral obligation" to sound the alarm about the dangers.
He insisted he meant no disrespect for Obama, with whom he has a history of testy encounters, and appreciated US military and diplomatic support for Israel.
Just hours after Netanyahu's speech to AIPAC, the largest US pro-Israel lobby, Obama told Reuters that Iran should commit to a verifiable freeze of at least 10 years on its most sensitive nuclear activity for a landmark atomic deal to be reached. But with negotiators facing an end-of-March deadline for a framework accord, he said the odds were still against sealing a final agreement.
The Reuters interview gave Obama a chance to try to preemptively blunt the impact of Netanyahu's closely watched address to Congress.
Previewing his coming appearance on Capitol Hill, Netanyahu told a cheering audience at the annual conference of the American Israel Public Affairs Committee (AIPAC): "As prime minister of Israel, I have a moral obligation to speak up in the face of these dangers while there's still time to avert them."
At the same time, Netanyahu said the relationship between his country and the United States was "stronger than ever" and not in crisis.