It's an old clich that the bravest human being who ever lived was the first person to eat an oyster.
An argument could be made that the title could also go to the first person who ever ate a lobster - the 10-legged shellfish looks like a giant insect (which, as an arthropod, technically it is), well-armed with hard shell and claws and from all appearances, not ready to go down without a fight.
A fight that's well worth it.
It comes as no surprise that, as China's middle class gains wealth and disposable income, lobster exports from the US to China are on the rise and the delicacy has become a favorite for New Year's indulgers when revelers treat themselves to goodies they wouldn't splurge on other times of the year.
Exports of live or processed lobster from the US to China rose from $2.1 million 0.6 percent share in 2009 to a $90.5 million 12 percent share in 2014, according government statistics.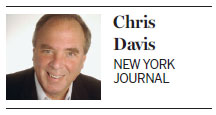 Stephanie Nadeau, owner of the Lobster Company, a wholesaler in Kennebunkport, Maine, said it took her crew working 14-hour days and nights packing crates to make the Chinese New Year's deadline. It's her busiest time of the year, which used to be Christmas. But Christmas is only one day, and the Chinese New Year demand lasts for four weeks.
She estimates that she shipped about 200 tons this time around (at the rate of 50 tons a week) - both smaller 1-pounders, which are preferred in Hong Kong, and the 2- to 3-pounders which are more popular in Guangzhou.
The Northeast's notorious winter this year has not helped, with the hubs of New York and especially Boston getting hammered with record-breaking horrendously bad weather. Since lobsters tend to hibernate in extreme cold, most of the lobsters Nadeau shipped this year were caught in December and January.
Spiny lobsters used to be plentiful in the waters of the South China Sea but overfishing destroyed their habitat and they have become increasingly rare and expensive. Maine lobsters are filling in and even though they arrive with an airfare attached, they are still a good deal.
China also imports lobsters from Canada, Australia, South Africa and the Caribbean and the market is expanding beyond the New Year's festival season.
American lobsters appear on menus in China for $50 to $100 each in restaurants - pricey, but still more affordable than Australian rock lobsters, which can cost hundreds of dollars and don't have the big tasty claws of their American cousins.
When Americans eat lobsters in restaurants, it is not a neat or delicate affair. They are provided with a large bib (which attentive waiters will obligingly tie on when requested) and an array of dissecting tools, including at least a nut-cracker for the shell and a pointed probe to gouge out the smallest delicate pieces of meat hiding in recesses. The meat is dredged is excessive amounts of hot melted butter and washed down with cold beer.
For the Chinese, the preferred way of eating lobster is to cook it in plain water and dip the meat in soy sauce and wasabi. Another popular way is to braise it with green bean vermicelli noodles in garlic sauce, one chef told the Associated Press.
The lobstermen of New England have been recording epic catches in recent years and are reportedly grateful for the business from the world's second-largest economy. Maine, which accounts for more than 80 percent of all US lobster, hauled in more than 250 million pounds in 2012-13, the highest two-year total in the record books, which go back to the 1800s.
Maine lobster is often called "Boston Lobster" on Chinese menus. Nadeau, a native Mainer, said she had no problem being upstaged by her big city neighbor to the south, just as long as the orders keep pouring in.
Nadeau said the Maine lobster had a few things going for it on the Chinese market: its sweet flavor, its bang for the buck and its USA cachet. And, she added, that Maine lobster had another decisive advantage in China.
"They like ours because they look like a dragon," she said.
Not only that, we might add, but when you cook them, they turn bright red, and everyone knows what the color red means in Chinese tradition.
Contact the writer at chrisdavis@chinadailyusa.com.