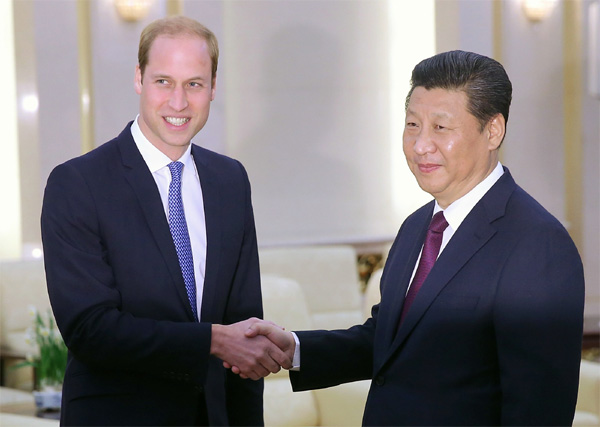 President Xi Jinping (R) meets with Britain's Prince William at the Great Hall of the People in Beijing, March 2, 2015. [Photo/Agencies]
BEIJING - Britain's Prince William said on Monday that he likes to see more Chinese players in action in the English Premier League (EPL).
During Monday's meeting with President Xi Jinping, William asked about Xi's interest in football and said he hoped to see more Chinese play in the English first-flight league.
Chinese first landed on EPL in 2002 when Sun Jihai joined Manchester City and Li Tie, now a Chinese national team coach, made it to Everton. They were followed by Dong Fangzhuo and Zheng Zhi, current China captain.
Xi, an avid fan of football, told William that China would like to learn the game from world top teams including England.
China has taken steps to raise its depth and strength in the world's most popular game, including a bold move by the Ministry of Education which has named football a compulsory part of the national curriculum.
China's central reform group, chaired by Xi, approved a sweeping football reform plan last Friday.
The Chinese president said China had cooperated with Britain in football in different ways, including a cooperation deal signed in 2013 between the Chinese Super League and EPL.
Xi added that he expected William to continue to promote sports exchange and cooperation between the two countries.