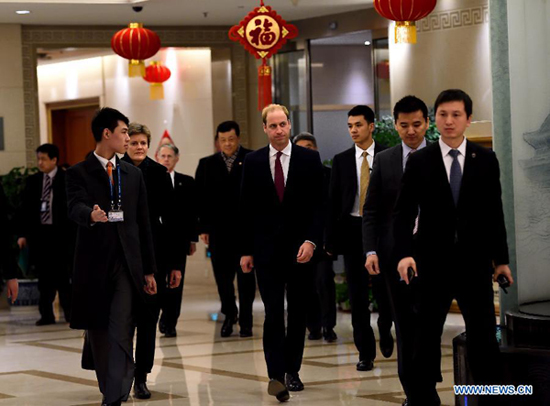 Britain's Prince William arrives in Beijing, capital of China, for his first-ever visit to China, March 1, 2015. He will have a four-day tour in China. [Xinhua/Jin Liangkuai]
The Duke of Cambridge, Prince William, began his visit to China on Sunday at the invitation of the Chinese People's Institute of Foreign Affairs (CPIFA). The Duke's visit marks the highest profile royal visit to China since 1986, when Queen Elizabeth II and Prince Philip travelled to the country.
On the 2nd of March, Prince William started the tour by visiting the Shijia Hutong Museum in Beijing. Hutong are alleys that connect low-rise courtyard houses. The museum is in the courtyard house restored by the Prince of Wales's China Foundation and The Prince's Foundation for Building Communities. Later in the day, Prince William paid a visit to the Forbidden City and met the President Xi Jinping in Beijing's Great Hall of the People and extended Queen's invitation for Xi to visit the UK.
According to the schedule, Prince William will travel to Shanghai where a campaign will be held in the Long Museum to showcase British creativity and innovation in entertainment, design, healthcare and fashion, which is one of the activities under the theme of 2015 UK-China Year of Cultural Exchange. He will encourage partnerships with Chinese businesses and attend the Chinese premiere of the British children's animated movie, Paddington. According to Buckingham Palace, over 500 British enterprises will benefit from potential cooperation with China.