Prince William arrives in China to warm welcome
By Zhang Yunbi and Zhang Chunyan ( China Daily )
Updated: 2015-03-02 06:06:25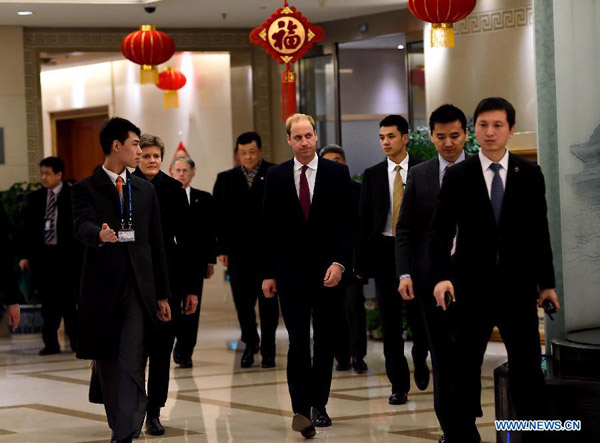 Britain's Prince William arrives in Beijing, capital of China, for his first-ever visit to China, March 1, 2015. He will have a four-day tour in China. [Photo/Xinhua]
The Duke of Cambridge, Prince William, began his visit to China on Sunday, marking the first visit to China by a senior British royal in close to three decades.
Prince William arrived at Beijing's Capital International Airport on Sunday night to a warm welcome.
The last visit by a senior British royal was when William's grandparents, Queen Elizabeth II and Prince Philip, came to China in 1986, according to the prince's press office.
"The Duke's visit to China symbolizes a deepening relationship between the United Kingdom and China. In terms of trade, cultural production and education, the two countries are becoming closer and this visit is very important in symbolizing how far the two countries have come since 1986," Rana Mitter, professor of history and politics of modern China at the University of Oxford, told China Daily.
Feng Zhongping, a European studies expert and vice-president of the China Institutes of Contemporary International Relations, observed that sending the prince to China mirrors London's sincerity and aims at the mid- and long-term stability of the relationship.
"'The Royal Diplomacy' is a signature dish of British public diplomacy ... and the Prince — with a good public image and a great appeal to the younger generation in China — will see his trip boost goodwill between the two peoples and help eliminate misunderstandings," Feng said.
The prince, 32, is scheduled to visit Beijing's Forbidden City and Shijia Hutong Museum. Hutong are alleys that connect low-rise courtyard houses. This particular courtyard house has been restored by the Prince of Wales's China Foundation and the Prince's Foundation for Building Communities.
In Shanghai, he will launch a campaign in the Long Museum to showcase British creativity and innovation in entertainment, design, healthcare and fashion, encourage partnership with Chinese businesses and attend the Chinese premiere of the British-produced children's animated movie Paddington.
On Wednesday he will travel to Xishuangbanna in Southwest China's Yunnan province to visit an elephant rehabilitation center.
Feng said the culture during William's trip is "also a part of the influential British soft power", and will effectively boost the country's image within China.
"There is a long link between the two countries, ... but this visit symbolizes the chance for China and Britain to become partners who are close, frank and open in their relationship," Mitter said.
Ahead of the visit to China, Prince William published a video message to send his good wishes for Chinese New Year. He sent wishes in Chinese as well.
In September, Prince William unveiled a new China Center in the University of Oxford. His father, the Prince of Wales, and the Duchess of Cornwall also opened a new Chinese cultural center in central London's Chinatown on the first day of the Chinese New Year in February.
"It's clear that the royal family understands that the economic and cultural relations between China and the UK are deepening," Mitter said.
Before China, Prince William visited Japan for three days. He is on his own during the visit in China. His wife, Kate, Duchess of Cambridge, is pregnant with their second child, due in April.
Contact the writers at zhangchunyan@chinadaily.com.cn

We will not give up search, Li vows
International hunt for missing airliner continues after fruitless six-day search