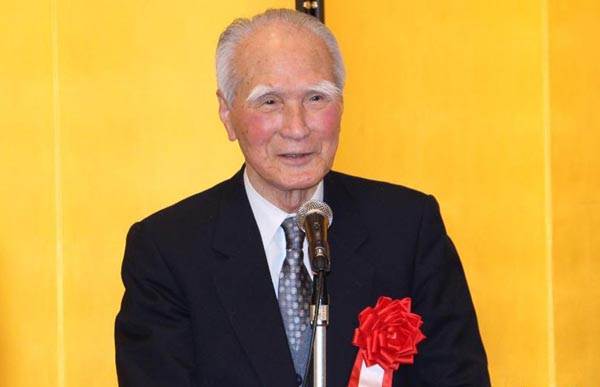 Tomiichi Murayama addresses a gathering over the friendship between Japan and China in Oita, Japan, Feb 28, 2015. [Photo/Xinhua]
OITA, Japan - If Japan plans to regain trust from its neighboring countries, it needs to squarely look at its wartime history and be apart from the past, said a former Japanese prime minister on Saturday.
Tomiichi Murayama, who offered apology to Japan's past war atrocities in 1995 in his capacity of prime minister, made the remarks when he addressed at a gathering over the friendship between Japan and China.
He said the 1995 apology, known as the Murayama Statement, is the commitment that Japan made to the international community, adding that if the country breaches the statement, it will lose trust and draw suspicion worldwide, or be isolated from the international community.
The former prime minister's words referred to the increasing concerns over incumbent Prime Minister Shinzo Abe's plan to issue a new statement this year that marks the 70th anniversary of the end of World War II.
Abe and his followers, although saying they will uphold the world-recognized apology, indicated that they will not use the same key wordings, such as "colonial rule" and "aggression" in the so-called "Abe Statement."
But Murayama stressed that the key wordings are undeniable history facts and the statement, as a cabinet resolution, shows that Japan determines to break up with its wartime past and to follow a path of peaceful development.
He added that Japan should admit its past mistakes and learn lessons from past so as to express the country's willingness that it will not repeat the mistakes again.