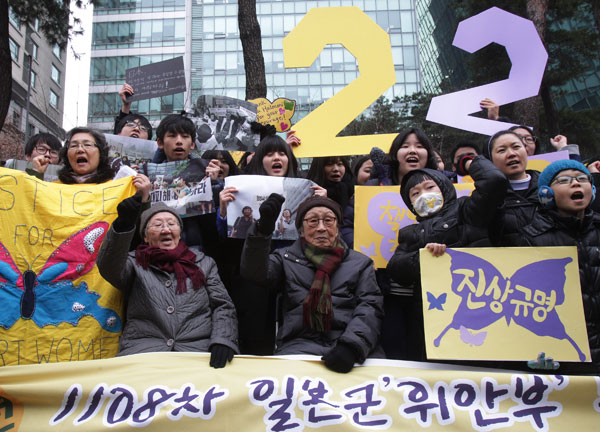 Former "comfort women" Kil Un-ock (bottom left) and Kim Bock-dong (bottom right), who were forced to serve Japanese troops as sex slaves during World War II, participate in a rally to commemorate the 22nd anniversary of the "Wednesday protest against Japanese government policy" in front of the Japanese Embassy in Seoul on Jan 8. Ahn Young-joon / Associated Press
Since taking office in 2012, Japanese Prime Minister Shinzo Abe has made consistent efforts to reinterpret the historic 1995 Murayama Statement: the then Japanese prime minister Tomiichi Murayama's apology for the damage and suffering caused by Japan to its neighbors before and during World War II.
Seeking to issue a statement on the 70th anniversary of the end of World War II in August that would "reflect his government's position", Abe recently hinted that he might change the wording of Murayama's apology. Abe's reported stance has raised concerns in China, Chinese Foreign Ministry spokeswoman Hua Chunying said on Jan 26.
Seen by many as Tokyo's most sincere official apology for the atrocities committed by Japan in neighboring countries, the Murayama Statement has been a thorn in the flesh of Japanese rightists for two decades. And it is at the insistence of Japanese rightist forces that Abe is threatening to whitewash Japan's militarist past.
The year 2015 marks both the 70th anniversary of the victory in World War II and the Chinese People's War of Resistance Against Japanese Aggression. No wonder, Abe wants to use the occasions to emphasize Japan's democratic and peaceful achievements in the postwar era and thus distract international attention from its wartime crimes.
Indeed, the reiteration or direct copying of the content of the Murayama Statement cannot constitute a new "Abe statement". So, the possible alteration in the former Japanese prime minister's words would be worth noting. Abe could, for example, blur or even erase words like "colonial invasion" from the Murayama Statement, while highlighting Japan's achievements in promoting democracy and the rule of law, contributions to the postwar world order, and implementation of a pacifist foreign policy.
Although seemingly unimpeachable, these changes would prompt many to doubt Tokyo's attitude toward its wartime history and Abe's motive for making such a statement.
But will Japan abide by its commitment to recognize and reflect on its atrocities 70 years ago, and pursue peaceful development?
Should the Abe administration deny Japan's war crimes instead of atoning for them, the 70th anniversary of the end of World War II is unlikely to be promising for a peaceful and stable future in Asia and the world beyond. As a country with an aggressive wartime history, Japan has to own up to its war crimes to show the world it indeed doesn't want to repeat the past.
But by racking his brain on how to "reinterpret" the Murayama Statement, Abe seems intent on leading Japan away from a peaceful future. Perhaps Abe does not realize that the victim countries, including China and the Republic of Korea, and even the United States and righteous Japanese nationals will not tolerate such a farce.
Moreover, being an instigator as well as a victim of World War II, Japan should reflect deeper than any other nation on the bloody war, and use an official speech like the one in August to atone for its past acts. Abe and his rightist supporters, however, appear to want to brag about Japan's postwar peaceful development, without even waiting to think that that would not have been possible without the huge sacrifices of the Allied forces.
Abe is likely to use a "carefully" worded statement as a show of defiance or "confidence" against the then Allied powers such as the United Kingdom, Russia and China, which plan to hold big commemorations on the 70th anniversary of the end of World War II.
Claiming to contribute to world stability yet lifting the ban on its right to collective self-defense by reinterpreting his country's pacifist Constitution, Abe has exposed his ambition of turning Japan into a major military power, an act for which he would lose the trust of peace-loving states. And Abe's clumsy trick, once again, contradicts postwar Japan's goal of peaceful development.
The author is a professor of Japan studies at China Foreign Affairs University.