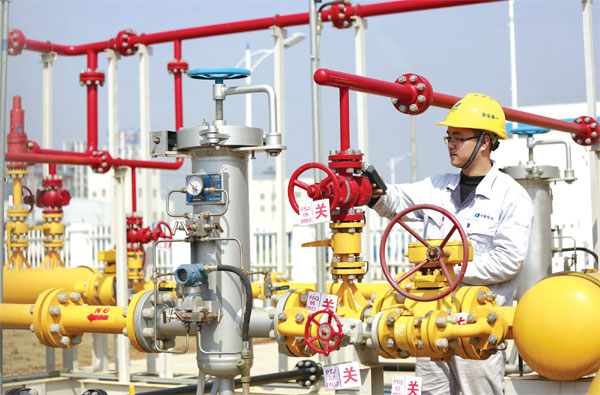 Workers conduct a gas test at an energy station to ensure safe operation at an industrial park in East China's Jiangxi province in March, 2014. [Photo /Xinhua]
BEIJING - China will set an equal, fair natural gas pricing structure for all industrial users to allow market forces to lead the energy sector, the top economic planner announced on Saturday.
The National Development and Reform Commission (NDRC) previously launched a market-oriented energy pricing mechanism on July 10, 2013, assigning a different pricing system for existing and new factories.
This meant that old users enjoyed relatively low prices compared with new comers.
To fulfil its promise to gradually level the price gap, the NDRC raised the wholesale gas price for old users on Sept 1, 2014, for the first time since the measure was put in place.
On Saturday, the NDRC announced that the wholesale price for old users would be increased for the second time, by 0.04 yuan (less than $1 cent) per cubic meter, and new users would pay 0.44 yuan less starting on April 1.
After the adjustment, the price for both groups will be the same, and rise and fall in a uniform way.
Since the international crude price dipped to a near five year low, many factories had turned to oil as an alternative energy.
The NDRC also plans to initiate a pilot plan, which will allow gas producers and major factory users to set the energy price.
Big factories, excluding fertilizer producers, may negotiate gas prices with the country's major energy companies starting April 1.
Currently, gas prices are controlled by the state and local economic planning bodies.
One of the world's largest energy users, China consumed over 180 billion cubic meters of natural gas last year.