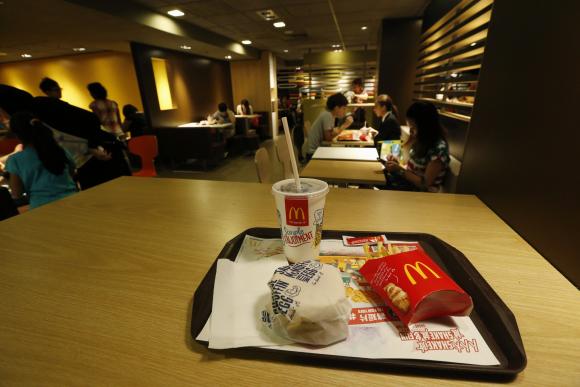 Food safety has become a top issue of concern for both Chinese families and local government authorities.[Photo/Agencies]
As more global fast food chains rush to China for expansion, they also have to face the costly headaches in a fast-changing food supply environment plagued by repeated safety scandals.
Fast-food giant McDonald's Corp recently announced that its Chief Executive Officer Don Thompson left at the end of February, who was the former president of McDonald's USA, and took the global helm of the company in 2012.
The company has seen one of its worst financial years in decades. In addition to fighting to retain customers with changing tastes and deal with pressures resulting from political and economic turmoil in some countries, it is also facing food safety scares in China, one of its most important emerging markets.
In July 2014, Shanghai Husi Food, owned by the Chinese arm of the United States food giant OSI Group, was accused of supplying expired meat to fast-food chains, such as McDonald's, Yum Brands and Burger King in Shanghai and restaurants as far away as Beijing and the provinces of Liaoning, Henan, Sichuan and Shandong.
Local food safety authorities launched an immediate investigation that led to the arrest of six senior executives and a nationwide product recall.
McDonald's Corp says about 500 of its 2,000 restaurants in China were affected. And after the case some of its stores had only fish sandwiches and fries for sale for a period.
The company said it immediately stopped using products from Husi, but the scare is already taking its financial toll.
Food safety has been a hot issue in the country in recent years, and has haunted a lot of companies, who are at their wit's end trying to monitor thousands of suppliers, usually small and remote.
Following this case, Shanghai stepped up its efforts to improve food safety management, crack down on illegal business practices and rebuild customer confidence.
According to a white paper recently released by Shanghai food safety authorities, a total of 7,405 food product manufacturing and operating businesses had their licenses revoked in 2014, and more than 8,400 food safety violations were investigated, with fines amounting to 55.67 million yuan ($8.98 million). In addition, a total of 129 criminal cases were cleared up and 260 suspects arrested.
Earlier February, food safety authorities in Shanghai said they would expand a pilot program to monitor key food producers with video surveillance from this year.
Food manufacturing companies or organizations defined as "high risk" will be asked to install more surveillance cameras in their departments, such as those producing or processing meat, products for infants, dairy produce, foodstuffs for school canteens and food for large-scale delivery services, according to Shanghai Food and Drug Administration.
"Food safety issues are knotty problems. Currently, we have a limited number of supervising officers, who are dealing with a mountain of tasks every day. We need to come up with more new measures. These cameras will help us better detect food safety problems and hazards," says Gu Zhenghua, deputy director of the Shanghai Food and Drug Administration.