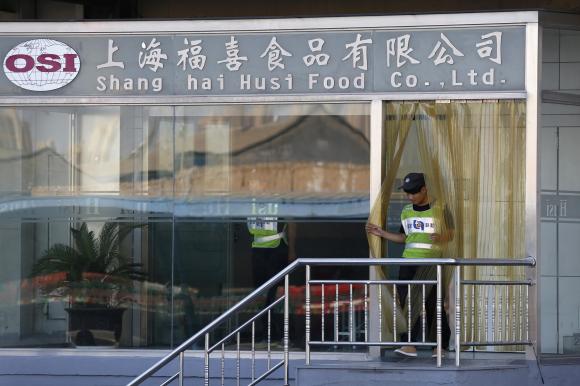 A man walks out of the entrance of Husi Food factory in Shanghai July 23, 2014. [Photo/Agencies]
US food supplier OSI Group LLC, which came under fire in China last year over allegations it used out-of-date meat, has criticised the handling of the case by the local food regulator.
OSI's Shanghai Husi Food Co Ltd plant came under the spotlight in July 2014, when an undercover Chinese media report showed workers using out-of-date meat and doctoring production dates.
The firm, which supplied international fast food chains including McDonald's Corp and Yum Brands Inc, launched a sweeping recall last summer that culminated on Sunday when it said it had destroyed the products.
The Shanghai Food and Drug Administration, which is still investigating Shanghai Husi over the matter, called the food destroyed on Sunday "questionable" in a routine statement, prompting the strong objections from OSI.
"Without having any test results or even having done any testing on the relevant products, and with the case still under investigation, to define the products our company has voluntarily recalled as "questionable" ... is totally without factual, scientific or legal foundation," Shanghai Husi said in a statement in Chinese on the OSI China website.
The statement said Chinese rules defined "questionable" food products as those which did not meet food safety standards or could be harmful for human health.
OSI's tussle with its Shanghai regulator also comes at a time when the central government in Beijing has acknowledged China's struggles to regulate tainted products.
China's top food watchdog said on Wednesday food and drug safety in the country was "grim" and pledged stronger oversight in the wake of a string of food scandals which have hit the reputations of brands including McDonald's, Yum and retailers Carrefour SA and Wal-Mart Stores Inc.
The Shanghai Husi scandal, which spread as far as Hong Kong and Japan, sparked a Chinese probe into the firm and dragged down Chinese sales at KFC-parent Yum and McDonald's. Both have since cut or suspended ties with Aurora, Illinois-based OSI.