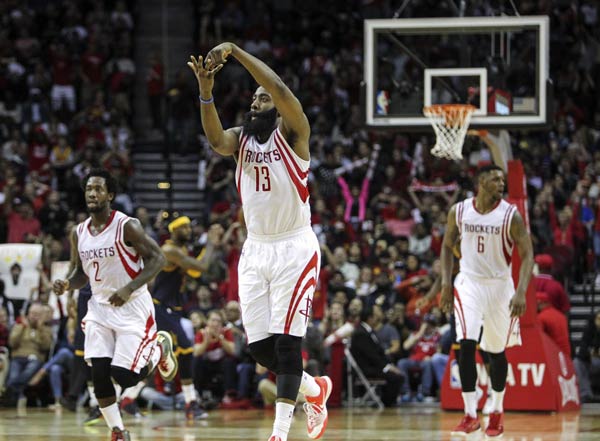 Houston Rockets guard James Harden (13) reacts after a play during the fourth quarter against the Cleveland Cavaliers at Toyota Center, March 1, 2015. [Photo/Agencies]
HOUSTON - James Harden scored 33 points and LeBron James missed a pair of free throws with 4.2 seconds left in overtime, helping the Houston Rockets hold on for a 105-103 win over the Cleveland Cavaliers on Sunday.
James hit a 3-pointer with 43.5 seconds left to get Cleveland within one point. Harden and James got tangled up on Houston's next possession, but no foul was called and the shot clock expired.
James drove into the lane and was fouled by Josh Smith, but missed both free throws to finish 3 for 11 at the line. Harden, who had his 26th 30-point game this season, added a free throw and Cleveland missed a 3 at the buzzer.
James finished with 37 points after resting during Friday night's loss at Indiana. He returned for a chippy contest that had multiple technicals and a flagrant foul by Harden on James.
The Cavaliers had a chance to win in regulation but James held the ball until right before the buzzer and his jump shot bounced off the rim.
Golden State's Stephen Curry scored 37 points, making four straight free throws to clinch it in the final seconds as the Warriors erased a 26-point deficit to beat the Boston Celtics 106-101.