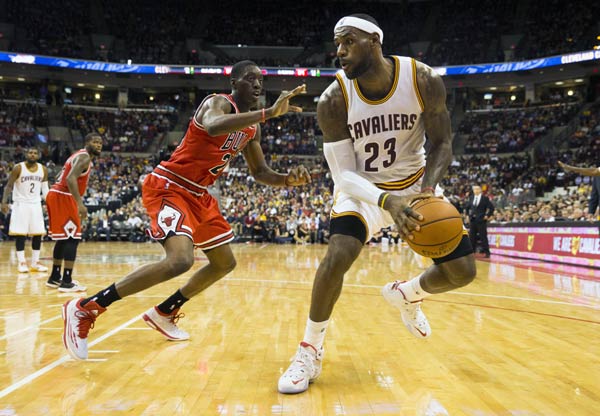 Cleveland Cavaliers forward LeBron James (23) spins past Chicago Bulls forward Tony Snell (20) at Value City Arena. Cleveland won the game 107-98, Oct 20, 2014. [Photo/Agencies]
CLEVELAND - This will be a season opener unlike any other - one that also brings closure.
Part homecoming, part family reunion, part revival meeting and a huge party rolled into one.
When LeBron James takes the court on Thursday night wearing a No. 23 Cavaliers uniform in a regular-season game for the first time in four years, an entire city will be able to wash away a painful past. Any lingering bitterness will give way to forgiveness and excitement about the future.
"For these fans," James said Wednesday, "it means everything."
That's because he means everything to them.
James and a Cavaliers team transformed over the summer by his return _ plus the signing of All-Star guard Kyrie Irving to a contract extension and the acquisition of power forward Kevin Love _ will open their NBA season on Thursday night against the New York Knicks.
This is the night Cleveland has been waiting for.
More than 20,000 fans, some paying more than $1,000 for a ticket, will welcome James back home to where he began his basketball career. He'll again play before family, friends from Akron and the Cavs fans who feared he would never return after he bolted for Miami in 2010 to chase championships.
There's never been a night like it in this city's tortured sports history, and it promises to be emotional for everyone, including James.
"It means everything to be able to open our NBA campaign here in Cleveland with these fans. It's going to be a special moment," James said. "We can't take it for granted. Moments like this, they don't come around every day."
The game will be secondary to the spectacle surrounding James' homecoming.
In the hours before tipoff, an apparel sponsor will unveil a new 10-story-banner of James where a previous one of his likeness became a treasured city landmark before being removed in the days after he left.
A free concert featuring hip-hop artist Kendrick Lamar and the rock band Imagine Dragons will take place across from the arena, and bars and restaurants will be overflowing with fans, thousands of whom can't get a ticket but want to celebrate something that in some ways feels bigger than a title.