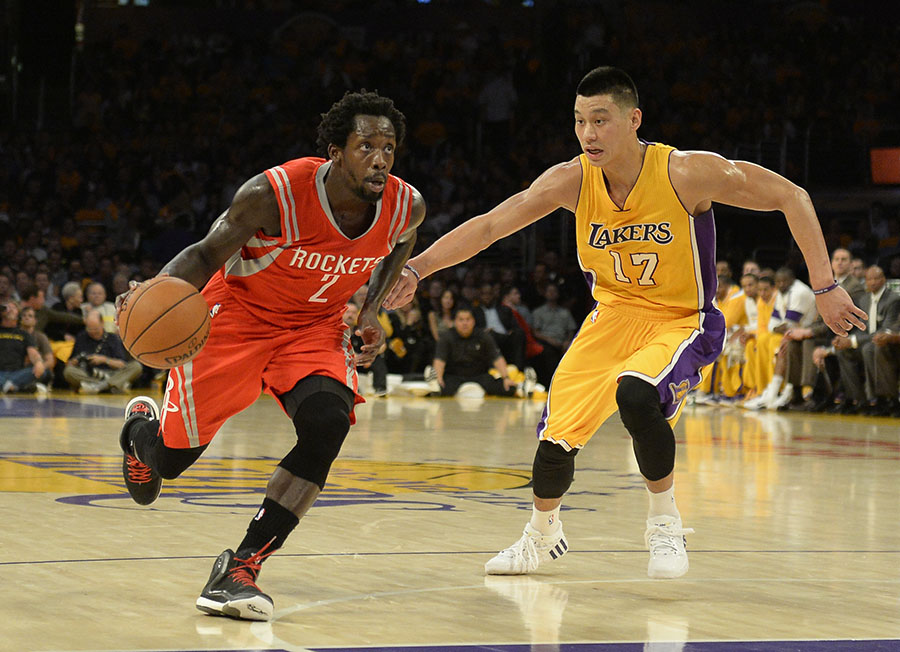 Houston Rockets guard Patrick Beverley (2) drives against Los Angeles Lakers guard Jeremy Lin (17) during the first half at Staples Center in Los Angeles, Oct 28, 2014. [Photo/Agencies/Richard Mackson-USA TODAY Sports]
In Los Angeles, the Houston Rockets gave the Lakers a nightmare start to the season in a 108-90 rout that saw Los Angeles lose their top draft pick Julius Randle to what is reportedly a broken right leg.
James Harden scored 32 points, Dwight Howard put up 13 and 11 in his return to Los Angeles, and the Rockets took a 17-point lead into halftime and piled on.
Kobe Bryant, playing for the first time since last December, scored 19 points in 29 minutes but the only fight the Lakers showed was in Bryant's late confrontation with Howard.
The two players shared one contentious 2012-2013 season together in Los Angeles and bad blood boiled over in the fourth when Howard elbowed Bryant and the two exchanged words and drew technical fouls.
But things completely went sour for Los Angeles a few minutes later when Randle, their number seven overall draft pick, went down and stayed there for several minutes before being carted off the court.