After 17 NBA seasons, Billups has no regrets about retiring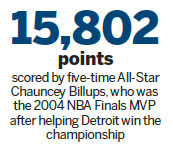 These days, Mr Big Shot has become Mr Soccer Dad.
Retirement is definitely agreeing with Chauncey Billups.
At 38 and struggling to stay healthy after 17 NBA seasons, Billups decided to step away from basketball this summer. More time for the family - he was a fixture at his oldest daughter's high school soccer games this fall - and more time to talk hoops, where he will serve as an ESPN analyst this season.

Today's Top News
Editor's picks
Most Viewed