Kobe approves of Lakers' moves
Kobe Bryant feels great, would welcome Byron Scott as coach of the Los Angeles Lakers, would love to play alongside free agent Carmelo Anthony and is pleased with the moves of the team's front office so far.
At least that's how Bryant presented things at the University of California Santa Barbara on Wednesday, where the All-Star guard is hosting his annual youth basketball camp.
But for anybody hoping for definitive answers, Bryant had nothing to offer.
"Obviously it's a hot topic of conversation in terms where everybody is going to go," he said.
"Everybody is here to read tea leaves. I don't have much to tell you. I don't have any information you guys don't already know."
Bryant addressed a throng of reporters during a wide-ranging conversation delayed by about an hour as he watched the end of the World Cup semifinal match between Argentina and the Netherlands.
He teased reporters asking him for his thoughts on the game.
"I missed it," he deadpanned.
"I was trying to rush over here to get to you fine folk. I didn't get a chance to catch the end. Who won?"
His joke fooled nobody, as moments earlier he had tweeted his excitement for the final between Argentina and Germany. That was quickly followed by another tweet that expressed his boredom at a by-now all-too-familiar line of questions.
Mostly, Bryant stressed patience in waiting to see who signs where.
"It's a little hard now because I think everyone is playing the waiting game to a certain extent, at least we are," he said.
"You kind of want to see where the dominoes fall and then operate from there. You wind up operating in somewhat of a window. You start seeing other players going other places, players that you can use to fill out the roster, right? So you see these things happening and you're behind a bit, but it's worth the wait."
The 18-year NBA veteran didn't hide his sentiments about the possibility of playing alongside Anthony, the Knicks free agent and his two-time Olympic teammate.
"I would love to play with him," Bryant said. "We've really clicked since 2008."
Bryant said he would also welcome his former teammate, Scott, as his next coach.
"He was my rookie mentor when I first came in the league, so I had to do things like get him doughnuts and run errands for him, things like that," he said. "We've had a tremendously close relationship throughout the years."
In terms of grading the performance of the Lakers front office this offseason, Bryant suggested he was pleased, but that he would not be happy with another rebuilding year.
"I've never had patience; I'm not going to start now," he said.
"But you do what you have to do as an organization. God forbid we end up with absolutely nothing, it's not for a lack of effort.
"That's something I would be extremely proud of. We put forth the effort and gave it our best shot.
"What can you do? You just go from there and do your best and try to win."
Bryant said he believed signing Anthony would go a long way to retaining unrestricted free agent Pau Gasol.
"My biggest message to (Gasol) was, 'Make sure you enjoy this process,'" Bryant said.
"I told him, 'The ball is in your court. This is your decision to make, don't feel like the weight is on your shoulders.' I'm sure if we got Carmelo that would help him make his decision."
Bryant said he feels as though his body is in midseason form.
"Physically, I feel great," he said.
"I don't think about my knee when I'm training, I don't think about my Achilles when I'm training. I feel sharp and crisp, and we'll just add on from there."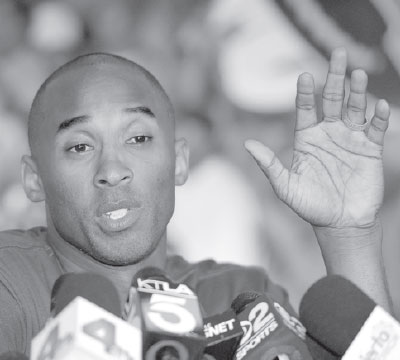 Los Angeles Lakers superstar Kobe Bryant speaks during a media conference at his youth basketball camp in Santa Barbara, California, on Wednesday. Mark J. Terrill / AP