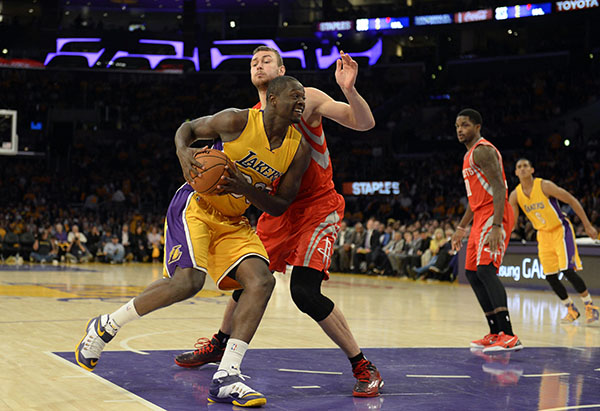 Los Angeles Lakers forward Julius Randle (30) drives against Houston Rockets forward Donatas Motiejunas (20) during the second half at Staples Center in Los Angeles, Oct 28, 2014. [Photo/Agencies/Richard Mackson-USA TODAY Sports]
WASHINGTION - Los Angeles Lakers could be without their rookie forward Julius Randle for the rest of the season after the seventh overall pick broke his right leg in the season opener on Tuesday.
"Randle is expected to make a full recovery, although it is anticipated that he will miss the remainder of the 2014-15 season, " the Lakers said on their website.
The 19-year-old Randle sustained the injury in the first regular season game of his career in which the Lakers were beaten 108-90 by the Houston Rockets. Randle had a surgery on Wednesday.
The Lakers have been already without their veteran guard Steve Nash, who is expected to miss the entire season and possibly end his career for back problems.