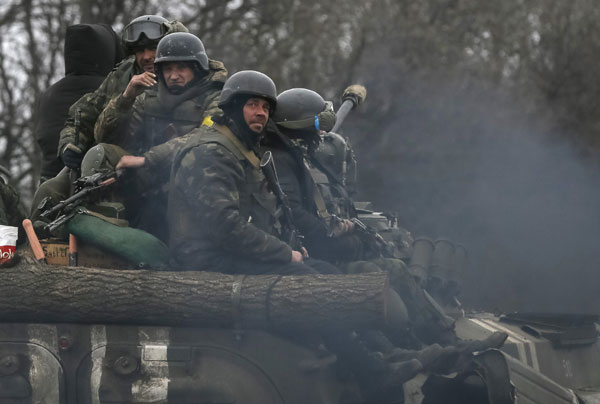 Members of the Ukrainian armed forces ride on an armoured personnel carrier near Artemivsk, eastern Ukraine, March 2, 2015.[Photo/Agencies]
UNITED NATIONS - The number of people killed in eastern Ukraine since last April has now topped 6,000, despite successive ceasefires, a UN spokesman said Monday, citing the latest report from the UN Office for High Commissioner for Human Rights (OHCHR).
The estimated death toll was caused by the ongoing fighting in the eastern part of Ukraine, which put the country on the brink of a "new and very deadly chapter" in the continuing conflict, the OHCHR said in the latest human rights monitoring mission report, the ninth, which was issued on Monday.
"The high commissioner said that it is imperative that all sides comply with the provisions of the Minsk Agreements and halt the indiscriminate shelling and other hostilities that have created a dreadful situation for civilians, in stark disregard of international humanitarian law and human rights law," Dujarric said.
The latest peace agreement was reached after negotiations between leaders of France, Germany, Russia and Ukraine on Feb. 12 in Minsk, the capital of Belarus, aimed at ending the conflict which has claimed the lives of more than 5,300 people at that time.
On Feb. 23, UN Secretary-General Ban Ki-moon met with Ukrainian Foreign Minister Pavlo Klimkin, and they agreed on the need for " urgent and full implementation" of the Minsk Agreement.
"The high commissioner said that the report paints a picture of merciless devastation of civilian lives and infrastructure, with women, children, and the elderly among the worst affected," the spokesman said.
The new report noted some positive developments, including the talks that resulted in the new ceasefire agreement, he said.
The OHCHR also welcomed the provisions regarding an "all-for- all" release of hostages and unlawfully detained people, the pullback of heavy weaponry from the line of contact, withdrawal of foreign armed formations, mercenaries and weapons from the territory of Ukraine, and the reinstatement of full control of the state border by the Government of Ukraine throughout the conflict area.