UNITED NATIONS - The UN Security Council on Tuesday unanimously adopted a resolution endorsing measures for the implementation of the new truce on Ukraine crisis.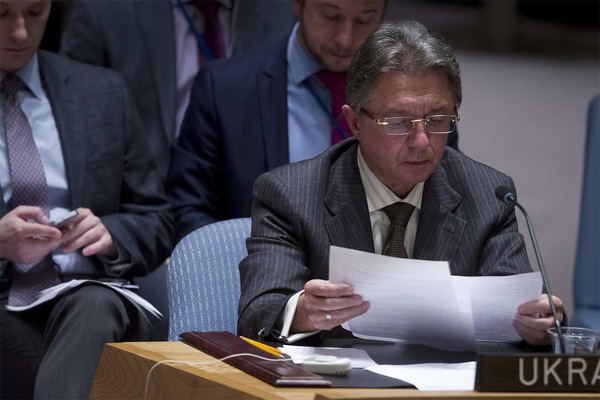 Permanent Representative of Ukraine to the United Nations Yuriy Sergeyev speaks during a meeting of the Security Council at the United Nations in the Manhattan borough of New York February 17, 2015. [Photo/Agencies]
In the Russian-drafted resolution, the Council reaffirmed "its full respect for the sovereignty, independence and territorial integrity of Ukraine," and expressed "its grave concern at the tragic events and violence in eastern regions of Ukraine."
The 15-nation body endorsed the "Package of measures for the implementation of the Minsk Agreements", adopted on Feb. 12 in Minsk, the capital of Belarus, and called for full implementation of the measures, including "a comprehensive ceasefire" as provided for therein.
It also stressed that the resolution of the situation in eastern Ukraine "can only be achieved through a peaceful settlement to the current crisis."
The resolution was adopted shortly after the Council issued a statement to the press on Ukraine, urging all parties to immediately cease hostilities.
The Ukraine crisis began to deteriorate in late February 2014 when it evolved from an initial internal political crisis into violent clashes in parts of the country. It later reached full- scale conflict in the east. Despite an earlier Minsk cease-fire struck in September last year, the situation in Ukraine has since continuously deteriorated.
The latest peace agreement was reached after negotiations between leaders of Ukraine, Russia, Germany and France Thursday in Minsk, aimed at ending the conflict which has claimed the lives of more than 5,300 people so far.