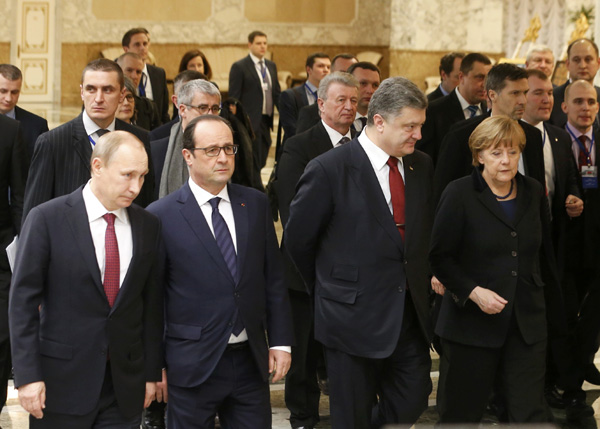 Russia's President Vladimir Putin (L, front), Ukraine's President Petro Poroshenko (2nd R, front), Germany's Chancellor Angela Merkel (R, front) and France's President Francois Hollande (2nd L, front) walk during peace talks in Minsk, February 11, 2015. [Photo/Agencies]
Being pragmatic is good, being practical better. German Chancellor Angela Merkel was both when she said she had "no illusions" about the ceasefire agreement reached on Feb 11 to end the fighting in eastern Ukraine. It only offers a "glimmer of hope", Merkel said of the deal that she, Russian President Vladimir Putin, Ukrainian President Petro Poroshenko and French President Francois Hollande reached in Minsk.
This is the first agreement that can really bring peace to the people in eastern Ukraine and end the pains Russians have been suffering because of Western sanctions. The Western powers imposed the sanctions on Russia because they (along with Ukraine) believe it is helping Ukrainian rebels with weapons and personnel to take on Kiev forces, a charge that Moscow has been vehemently denying.
The West has for long been using the weapon of sanctions to cripple the economies of countries that do not measure up to its political and strategic criteria. Even in Minsk, Merkel did not forget to say that wider measures, including "further sanctions" on Russia, could be implemented if the ceasefire (to start from zero hours on Feb 15) is not upheld.
The ceasefire agreement has indeed come as a great relief to the people on both sides of the divide in eastern Ukraine, because thousands of lives have been lost with many more injured and displaced in the 10 months of fighting.
In fact, no one knows exactly how many people have died in the conflict. The death toll in the fighting is matter of which side you believe in. Just over a week ago, Poroshenko said, "thousands of people, 5,638, have been killed since April (2014)". But a day later, the German intelligence service estimated that the death toll (civilians and servicemen) in the civil war could be up to 50,000, that is, nearly 10 times higher.