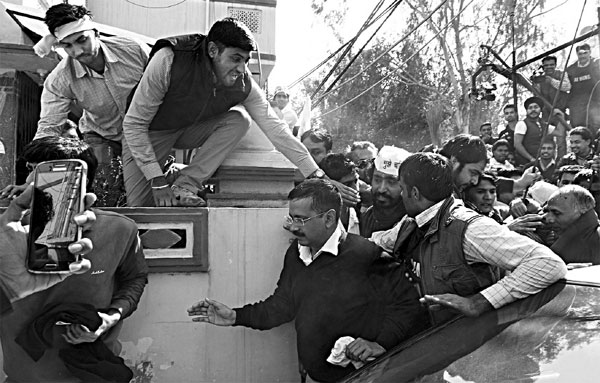 Indian Aam Aadmi Party leader Arvind Kejriwal (center) walks through a group of supporters as they celebrate his victory in the state assembly elections outside the party's headquarters in New Delhi on Tuesday. Indian Prime Minister Narendra Modi conceded defeat in the Delhi state elections as early results showed anti-corruption campaigner Kejriwal's party set for a victory. Prakash Singh / Agence France-Presse
Rarely has a party won 95 percent seats in a democratic election, certainly not in India. But that is exactly what happened in the election to the Delhi Assembly, results for which were declared on Feb 10.
The historic win of the Aam Aadmi Party (Common Man's Party) - though it was in a provincial rather than national election - is especially relevant to China. The main election planks the AAP fought the election on were fight against corruption and good governance, the two major aspects of reform in China. And like the Chinese leadership, the AAP also lays great emphasis on having close relations with and serving the public.
Even till a month ago, the media and psephologists considered the AAP a spent force, at best underdogs. But proving all earlier predictions wrong, the AAP has brought the so-called juggernaut of India's ruling right-wing Bharatiya Janata Party led by Prime Minister Narendra Modi to a violent halt. If there ever was a contest between David and Goliath, this was it.
For the uninitiated, the AAP was formed in late 2012 by activists who had launched the India Against Corruption movement the previous year. In late December 2013 the AAP contested the Delhi (or National Capital Region including India's capital New Delhi) Assembly election and won 28 of the 70 seats, with the BJP winning 31. Since no party had won a clear majority, the AAP formed a minority provincial government with outside support from the Congress party, the then ruling party of India, which had won eight seats.
The India Against Corruption movement, and thus the AAP, was launched to demand good governance and the end of corruption in politics. One of IAC's main demands was the passage of the Jan Lokpal Bill (or Citizens' Ombudsman Bill) drawn up by civil society and the appointment of an independent ombudsman to investigate corruption cases against politicians and bureaucrats. After forming the government in Delhi, the AAP tried to get the bill passed at the provincial level in the assembly with the help of the Congress party but in vain. In protest, the AAP government resigned in February 2014 after being in power for just 49 days.