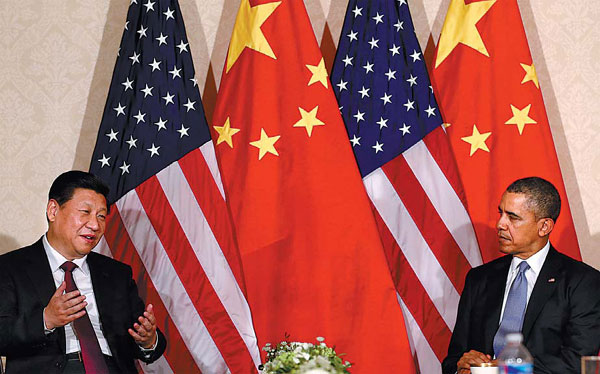 President Xi Jinping meets with his US counterpart Barack Obama on the sidelines of the Nuclear Security Summit in The Hague on March 24, 2014. [Photo/Agencies]
President Xi Jinping's acceptance of US President Barack Obama' invitation to visit the United States in September will push forward Sino-US relations and add guarantees to world prosperity and stability, says a People's Daily article.
During a phone conversation on Wednesday, Xi and Obama agreed to jointly push for the stable and healthy development of bilateral ties and greater progress in building a new type of major-country relationship that focuses on no conflict, no confrontation, mutual respect and win-win results.
Their phone talk went far beyond the bilateral scope and included such global issues as climate change and regional hot issues.
Direct communications between the two countries' heads of state have played an irreplaceable role in the development of Sino-US ties. The informal Sunnylands meeting between Xi and Obama in June 2013 and their evening stroll inside the government complex at the heart of Beijing in November 2014 helped them reach consensuses in a candid manner.
There has been a consensus among various US circles on the importance of Sino-US relations and many pragmatic and insightful people in the US hope the leaders of the two countries can strengthen communication to keep ties continuously developing on a benign track.
After the announcement of Xi's visit, much of the mainstream US media welcomed the move. In the current era of global adjustments, how China and the US deal with each other will directly influence the overall situation.
This year marks the 70th anniversary of the world's victory against Fascism. The September handshake between Xi and Obama will surely advance bilateral ties and promote global prosperity and stability.