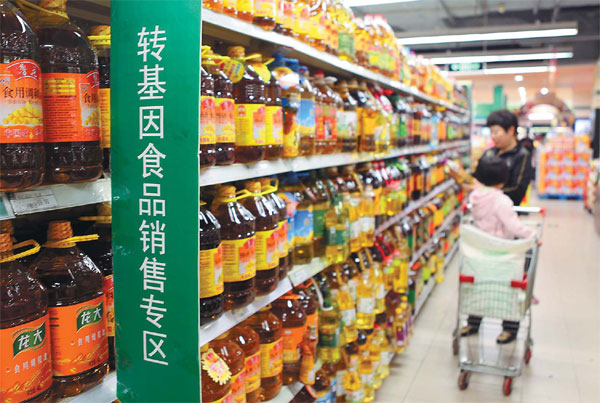 One product in China sold with genetically modified beans is oil. [Photo provided to China Daily]
China does not want its genetically modified food (GM) market to be dominated by foreign products (and thus foreign companies). Such assurance by officials of Central Rural Work Leading Group, China's top agency in charge of rural work and agricultural affairs, are necessary to convince the people that the country's leadership is serious about food security.
But it also raises a pertinent, and disturbing, question: Has China decided to allow the use of GM seeds to grow staples like rice, wheat and corn? Of course, China allows the import of GM soybeans and corns.
China is home to more than 1.3 billion people, and feeding them is a big challenge, especially in these times of climate change and weather idiosyncrasies. But despite all the challenges, and without using GM crops, China has become the largest producer of the two most widely used staple foods, rice and wheat, and the second-largest producer of another staple, corn.
Given these facts, the very people the leading group wants to convince about the "magic" of GM seeds would want to know why we need them in the first place.
There is difference between food security and food safety, and people in China - given its high agricultural production - are more worried about the latter.
Like most other subjects, the GM seed issue has also prompted experts to compare China and India. And since the acreage of GM crops in India is 11.6 million hectares, some Chinese experts say China should bring more areas under GM crops because its GM crop acreage is "only" 3.9 million hectares.