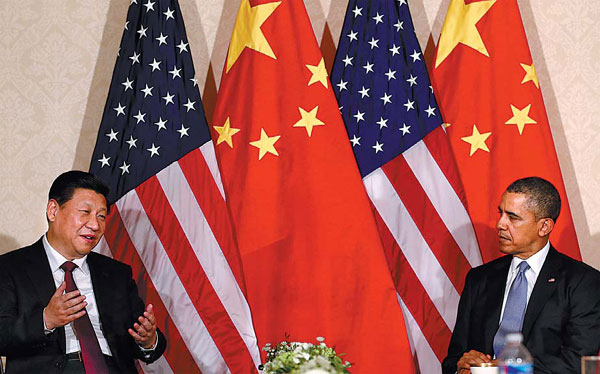 Chinese President Xi Jinping meets with his US counterpart Barack Obama on the sidelines of the Nuclear Security Summit in The Hague on March 24, 2014. [Photo/Agencies]
BEIJING - Chinese President Xi Jinping on Wednesday held phone talks with his US counterpart Barack Obama and accepted the latter's invitation to pay a state visit to the United States in September.
Both sides agreed to make full preparations to ensure the success of the trip.
Exchanging New Year greetings, the two leaders agreed to work together to facilitate a steady and healthy growth of China-US relations while promoting a greater development in building their new type of major-country relationship.
During the conversation, Xi said "over the past year, we have had a series of in-depth talks, reaching important consensus on China-US ties as well as significant issues concerning regional and international peace and development."
"I looked forward to continuing strategic dialogues with President Obama," Xi added.
Meanwhile, Xi expressed the hope that the China-US Strategic and Economic Dialogue and China-US High-Level Consultation on People-to-People Exchange (CPE) that will be held in the United States this year will achieve as many positive results as possible under the joint efforts of the two sides.
During the conversation, the Chinese president also called on both sides to broaden cooperation in economy and trade, military, energy, environmental protection, infrastructure and law enforcement and expand people-to-people exchange, so as to consolidate the foundation of China-US ties.
The two sides need to speed up talks on a bilateral investment treaty to foster new bright spots in trade and investment and the US side should loosen restrictions on export of high-tech products to China and take actions to facilitate Chinese investments in the United States, Xi added.
On such major issues as climate change, global development agenda and world health security, the two countries should enhance communication and coordination, Xi stressed.