White House: Xi visit major
"There is no substitute for the two leaders sitting together," White House aide Ben Rhodes said of the expected visit by Chinese President Xi Jinping later this year.
"We thought it was important to have President Xi here," Rhodes, who is assistant to the president and deputy national security advisor for strategic communications and speechwriting, said Monday.
US National Security Advisor Susan Rice announced on Feb 6 that US President Barack Obama has invited Xi for a state visit this year. Also on the invitation list is Japanese Prime Minister Shinzo Abe.
Agreements on environmental, military and reciprocal visa-extension issues were reached when Obama and Xi met during a conference in Beijing in November.
Before that, Xi made his initial visit to the US as president at the Sunnylands retreat in California in June 2013, but has not yet been hosted in Washington for an official state visit. Xi's predecessor, Hu Jintao, made a state visit in 2011.
Rhodes praised last year's highlight of "two leaders getting together to [make] progress on climate change, on trade, on military to military relations". He said the best way to keep the momentum going is to have another state visit.
He said that the White House didn't have fixed dates for the meeting yet.
Cui Tiankai, China's ambassador to the US, said on Feb 6 that China-US relations have reached wider and deeper scopes in many ways in recent years, and China would work to enhance bilateral relations in 2015.
"In the Chinese Year of the Sheep, I hope China-US relations will be more like the 'Pleasant Sheep' and less like the 'Big Bad Wolf,' " he said at the embassy's Chinese New Year gala.
"The Sino-American relationship is much broader than that, particularly, the economic relationship is extremely important," said Bernard Cole, a professor at the National War College, said on Feb 6 at Brookings.
Rhodes said the US was looking forward to the Paris summit later in the year.Climate-change pledges and reducing greenhouse gases are on the summit agenda.
Rhodes also said that Obama is "very mindful" to "be setting clear signals to the Asian Pacific region that the rebalance is here to stay".
"There is no substitute for the president of the United States being engaged in those efforts, and I think it has been borne out in his recent trips to the region," said Rhodes.
Sheng Yang in Washington contributed to this story.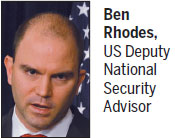 (China Daily USA 02/10/2015 page1)