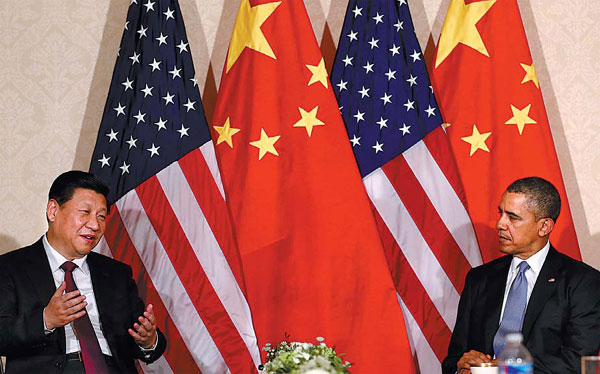 Chinese President Xi Jinping, left, meets with his US counterpart Barack Obama on the sidelines of the Nuclear Security Summit in The Hague on March 24, 2014. [Photo/Agencies]
The prospect of President Xi Jinping visiting Washington later this year is a positive one for the White House.
"There is no substitute for the two leaders sitting together," White House aide Ben Rhodes said on Monday. "It was important to have President Xi here." Rhodes is assistant to US President Barack Obama and deputy national security adviser for strategic communications and speech writing.
US National Security Adviser Susan Rice announced last week that Obama had invited Xi for a state visit this year. Also on the invitation list is Japanese Prime Minister Shinzo Abe.
Agreements on the environment, military issues and visa extensions were reached when Obama and Xi met during an Asia-Pacific Economic Cooperation conference in Beijing in November. Before that, Xi made his initial visit as president to the US at the Sunnylands retreat in California in June 2013, but has not yet been hosted in Washington for an official state visit.
Rhodes praised last year's meeting and said the best way to keep the momentum going is to have a state visit. He said that the White House didn't have fixed dates for the meeting yet. Cui Tiankai, China's ambassador to the US, said last week that the two countries are "keeping in touch" on arrangements.
"High-level exchanges have been going on well in recent years, and the frequent close communication between the leaders has played an irreplaceable leading role in China-US ties," Cui said. "We are glad to see these contacts continue, and get better."
Bernard Cole, a professor at the National War College in Washington, said at the Brookings Institution last week that positive China-US relations were crucial-"particularly, the economic relationship is extremely important". Rhodes said the US was looking forward to the United Nations Climate Change Conference in Paris later in the year. Pledges to reduce greenhouse gas emissions are on the agenda. About 200 countries have agreed to the pledge, Reuters reports.
Rhodes said that Obama is "very mindful" about "sending clear signals to the Asian Pacific region that there balance is here to stay". "There is no substitute for the president of the United States being engaged in those efforts, and I think it has been borne out in his recent trips to the region," Rhodes said.
Rhodes talked about the disputes in the South China Sea. He said the position of the US was to "work cooperatively with the nations of the region to assure continuous prosperity and stability going forward". "There is a process for dialogue for issues like maritime security in the South China Sea," he said. "Everything we are doing reinforces the rules-based system in the region.
Sheng Yang contributed to the story.