Discussions with Obama expected to focus on Western Pacific issues
Arrangements are being made for Xi Jinping to pay his first state visit later this year to the United States as president of China, a senior Chinese diplomat confirmed.
While the date has yet to be released, discussion is ongoing between Beijing and Washington for Xi's expected trip, Cui Tiankai, China's ambassador to the US, told Chinese reporters.
Cui noted that the countries have carried out successful high-level interactions in recent years.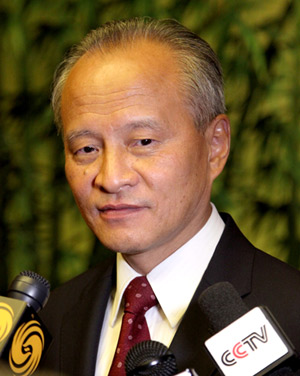 Cui Tiankai, China's ambassador to the US
"We are also very willing to see such interactions continuing this year, and we may even have a greater success," Cui said.
US National Security Adviser Susan Rice said on Friday at the Brookings Institution, a US think tank, that the US has invited Xi for a state visit to the country this year.
International relations experts expect the international community to watch how the two powers work through thorny issues in the Asia-Pacific region and reduce, if not eliminate, mutual distrust.
Discussions will touch upon highly sensitive interactions, but neither of the world's largest economies will risk ties by seeking major confrontation, experts told China Daily.
Xi was last in the US for an informal summit in California in June 2013. He met President Barack Obama again after the Asia-Pacific Economic Cooperation meetings in Beijing in November.
Shi Yinhong, a professor of US studies at Renmin University of China in Beijing, observed that the last time Xi made a formal trip to the US was in 2012 in the capacity of vice-president.
Yuan Zheng, a senior researcher on US foreign policy at the Chinese Academy of Social Sciences, said that in addition to the state visit there are three or four other anticipated encounters between Xi and Obama this year.
During Xi's trip, Washington will dial up the pressure on hot spot issues such as cybersecurity, but the main focus will be the Western Pacific region, Yuan said.
Chinese experts noted that the recently unveiled 2015 US National Security Strategy rejected the notion of the "inevitability of confrontation" with China.
With Obama in the middle of his final term as president, Yuan said "it seems much easier for him to score some points and leave a legacy in foreign affairs rather than domestic issues", so the emphasis on rebalancing in Asia would only increase.
Former US ambassador to China Gary Locke told Xinhua News Agency on Saturday that "the world is looking for the partnership between the United States and China to solve many of the problems".
Xi is not the only one invited. Rice said other invitations have gone to Japanese Prime Minister Shinzo Abe, South Korean President Park Geun-hye and Indonesian President Joko Widodo — leaders of the major players in East Asia.
Shi said it is natural to see Washington arrange meetings with leaders from traditional treaty allies, such as Japan and South Korea. But as "everyone knows from the nature of their relationships", those meetings should be seen as "separate issues" from the China-US summit.
Reuters commented that the invitations are "part of Washington's moves to increase economic, security and diplomatic engagement with the region".