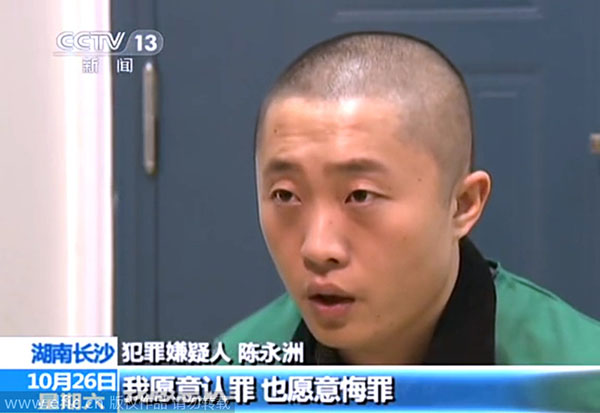 In this TV grab, Chen Yongzhou, center, a reporter of the New Express, and detained by Changsha Police, is confessing having accepted bribes to defame the state-owned construction equipment maker Zoomlion for money and fame in Changsha, Central China's Hunan province, 26 October 2013. [Photo/IC]
The country's press watchdog, the All-China Journalists' Association, twice exposed the plagiarism and forgery in some media reports last month. Such scrutiny indicates the watchdog's enhanced supervision over the sector, as well as the necessity of shoring up the ethics of media practitioners.
In the first case, the association revoked an article's candidacy for the 24th China News Awards, the nation's top journalism award, and withdrew a third prize given to a TV news report, citing plagiarism and forgery as the reason. Such open criticism is unprecedented in the 24-year history of the award.
In the second case, as the result of an investigation it carried out after being tipped off by the public, the association revealed that five stories from three media outlets were falsified.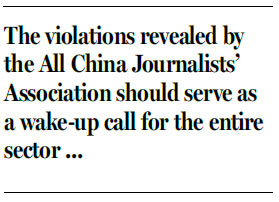 As a country with a large contingent of traditional media, as well as a booming new media industry, a handful of incidents of media malpractice do not reflect the whole picture of the entire sector, which, according to a report issued in December, enjoys an increasingly open and transparent operating environment, as well as greater credibility and social influence.
Yet, this does not necessarily mean media outlets and journalists can relax their self-discipline or slacken their observance of the basic norms and ethics governing the profession.
The violations revealed by the All China Journalists' Association should serve as a wake-up call for the entire sector to strive for quality journalism and dutifully shoulder their social responsibilities.
Authenticity, objectivity and truth-seeking form the very foundation of any media organization's credibility and should be upheld at all times.
In recent years, along with the rise of new media, journalists are facing intensified competition and rising temptations from the outside world. It is not uncommon for some to resort to sensationalism or even falsification to boost circulation or audience ratings.