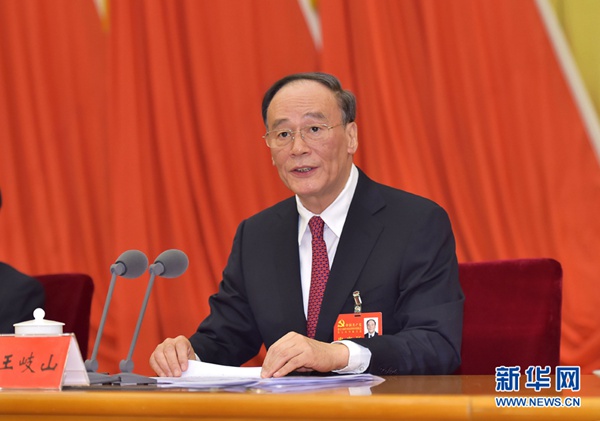 Wang Qishan, secretary of the CPC Central Commission for Discipline Inspection (CCDI), made the remarks in his work report delivered at the fifth plenary session of the CCDI, Jan 12. [Photo/Xinhua]
On Monday, the wine imports department of the China National Cereals, Oils and Foodstuffs Corp, China's largest State-run oil and food importer, reportedly spent at least 200,000 yuan ($32,010) convening a wine-tasting party at a luxury hotel in Southwest China's Yunnan province. Comments:
To some COFCO employees, the so-called business party was just paid leave during which they could also enjoy first-class wines. The reason why the expenditure on wine was "not very high", as their department's manager clarified, might be because they were purchased at cost price rather than retail price. However the party organizers must have paid for them at public expense, and almost certainly will incur mounting censure from the public.
Zhu Xu, a guest commentator with China National Radio, Feb 10
The latest official denial of the exorbitant expenditure on wine was hardly convincing, and there should be a proper and independent investigation into the party. The authorities managing State-owned enterprises should urge all SOEs to put details of their gatherings and the affiliated regulations on their official websites so the public can oversee them.
Xi'an Evening News, Feb 10
Given the ongoing anti-graft movement across the country, the COFCO employees who spent so much public money on tasting wine are surely at fault. Public criticism against this case should serve as a wake-up call to all public servants in the country. Hard as it might be, determination is needed to call a halt to similar wastes of public money.
gog.com.cn, Feb 10