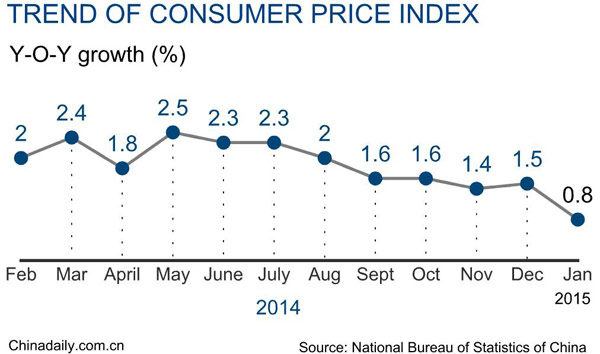 China's consumer price index, a main gauge of inflation, grew 0.8 percent year on year in January, the slowest rise in more than five years.
The National Bureau of Statistics' latest report shows that the consumer price index, a main gauge of inflation, for January 2015 rose by just 0.8 percent, the lowest in five years. The index for food products increased 1.1 percent and that for non-food products, 0.6 percent. Comments:
Thanks to the warm winter, the prices of fresh vegetables fell instead of rising in January, while the prices of fruits and seafood increased only slightly. Besides, falling global crude oil prices also caused gas and diesel prices to drop. More importantly, the Chinese New Year, during which prices of consumer products generally rise, will be celebrated in the second half of February instead of January, which also led to the low CPI.
Yu Qiumei, senior actuary at the National Bureau of Statistics, Feb 10
The low inflation rate reflects the economic downturn that has lowered demand in the real economy. Predictably, the loose monetary policy will continue as the central bank has lowered the required reserve ratio for commercial banks. Many people are worried that stimulus measures may push up realty prices. But their worries are unnecessary because the demand-supply ratio in the realty market remains unchanged, and the stimulus won't reverse this trend.
hexun.com, Feb 10
Apart from the pressure of deflation, which is common in economies, the Chinese economy also has other problems like bubbles and a high leverage ratio. The central authorities have done the right thing by limiting local governments' debts and investments. What is needed next is to raise the deficit ratio of the central budget to keep the economy dynamic.
Li Xunlei, chief economist at Haitong Securities, Feb 10
The lowest CPI in five years implies heavy pressure on the economy to maintain stable growth and risks of deflation. However, the central authorities have already intervened through measures like expediting the issue of credit loans and lowering the required reserve ratio, which are likely to reverse market expectations and ease worries over the possible decline of the real economy.
Lu Zhengwei, chief economist at Industrial Bank, Feb 10