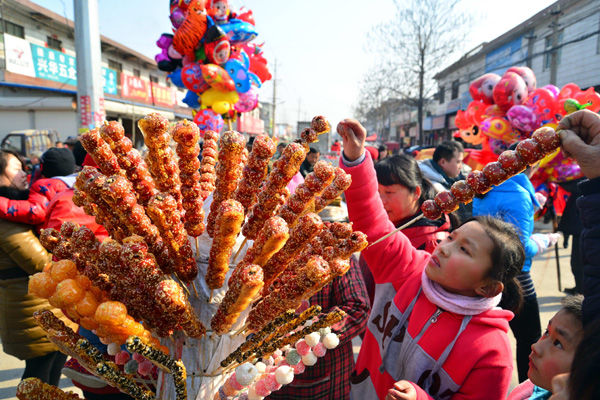 Children buy candied hawthorns at a market in Liaocheng, Shandong province, on Feb 10, 2014. Food prices rose 1.1 percent year-on-year in January compared with 2.9 percent in December. [Photo provided to China Daily]
Deflation fears spook industrial sector; both indexes weakest since global financial crisis
Inflation at the consumer level moderated to a five-year low in January, led by declining food prices, while deflation intensified in the industrial sector, reinforcing expectations for further monetary easing to stabilize growth.
The Consumer Price Index fell to 0.8 percent in January from 1.5 percent in December, the National Bureau of Statistics said on Tuesday.
It was the first time that the CPI had retreated below 1 percent since 2009. It was also the lowest level since the global financial crisis in 2008, when the figure bottomed out at a decline of 0.8 percent.
Weaker food prices and distortions from the impact of the upcoming Lunar New Year might have dragged down the CPI, according to economists.
The Lunar New Year holiday, which falls in January or February each year, sees a surge in consumer spending and widespread business shutdowns, which can produce year-on-year distortions. This year, the holiday starts on Feb 18.
In January, food inflation fell to 1.1 percent year-on-year from 2.9 percent in December, while nonfood inflation dropped to a 59-month low of 0.6 percent, the NBS said.
The Producer Price Index also dropped to its lowest level since the global financial crisis. It declined by 4.3 percent from a year earlier, compared with the 3.3 percent fall in December.
Plunging world oil prices drove down the CPI by 0.07 percentage point, and they contributed 65 percent of the PPI's drop in January, said Yu Qiumei, a senior economist at the NBS.
The figures also reflected weak underlying demand growth, economists said.