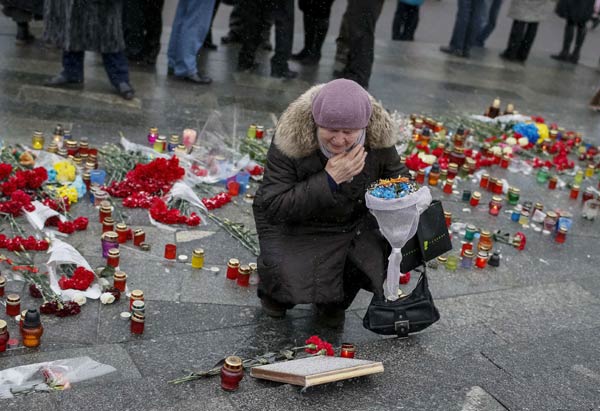 A woman reacts as she attends a rally in memory of people who died during shelling in the southern Ukrainian city of Mariupol on Saturday, in Kiev January 25, 2015. [Photo/Agencies]
The Ukraine crisis is front-page news again with German Chancellor Angela Merkel, French President Francois Hollande and Russian President Vladimir Putin to broker peace between Kiev and Ukrainian pro-independence insurgents. The three will meet in Minsk, capital of Belarus, with Ukrainian President Petro Poroshenko to find ways to restore permanent peace in Ukraine on Wednesday.
China, the engine of growth across the Asia-Pacific region, continues to work closely with Russia to build effective economic and political partnership, which should be seen as important beyond the bilateral relationship. But the international community doesn't do so.
It is good to see the German and French leaders involve more in Ukraine crisis even if it is more to prop up their own political fortunes than to broker a peace deal. But it is certainly not good to see US politicians visiting Ukraine, especially because when it comes to the United States' foreign policy, "foreign" and "policy" form a perfect oxymoron. Why? Because the world has always perceived the US foreign policy as bellicose and bombastic.
Ukraine is already battling its worst crisis. Now the intervention of US Secretary of State John Kerry threatens to deepen it. For example, Kerry and his fellow American politicians are hell-bent on providing military "aid" to Ukraine. Such belligerent attitude sharply contrasts with China's approach, characterised by patience and peaceful negotiations, to end the crisis.
Even more alarming are comparisons by the US between the situation created by the Ukraine crisis and the Cold War. It smacks US hope to continue its hegemony. And the confrontational US involvement in Ukraine is not without precedents.
In their blind pursuit of superiority, the Americans have opposed China's initiatives to establish the Asian Infrastructure Investment Bank and Free Trade Area of the Asia-Pacific, which are aimed at generating common benefits and have been lauded by many countries and regions.
Traditional Chinese values continue to influence Beijing's domestic as well as foreign policies, which have also played a very important role in the country's incredible economic rise.
The US can learn from the Chinese approach and seek a negotiated settlement to the Ukraine crisis, for that is the only way to restore permanent peace in Ukraine.
The author is a visiting professor at the University of International Business and Economics in Beijing and a senior lecturer on marketing at Southampton Solent University's School of Business.