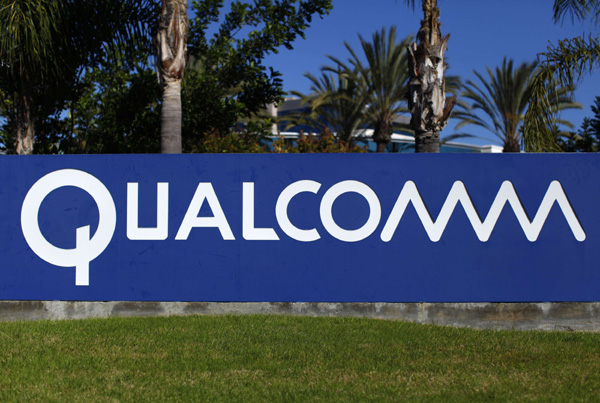 A Qualcomm sign is pictured in front of one of its many buildings in San Diego, California November 5, 2014. [Photo/Agencies]
The 6.088-billion yuan ($975 million) fine imposed by the National Development and Reform Commission on chipmaker Qualcomm Technologies Inc for violating the anti-monopoly law is the highest on any company on the Chinese mainland. But it is equal to only 8 percent of what the US-based company earned from sales on the mainland in 2013 and less than the 10 percent of its sales revenue that it could have been asked to pay.
There is no need to misinterpret the fine as anything but a justifiable penalty for undermining fair competition. In the past two years, the authorities have levied 3 billion yuan in fines on domestic and overseas-funded businesses for violating monopoly laws.
Especially noticeable is the agreement by Qualcomm to pay the fine: it will offer licenses for its current 3G and 4G mainland patents to other companies, and the royalties it collects will be calculated on 65 percent of the selling price of the phones instead of the full price.
Several standard essential patents the chipmaker holds have become a means to stop the products developed by other companies from entering the market. The very high fees SEP holders such as Qualcomm charge to allow new products to enter the market has stifled the innovation potential of other companies, which is against fair competition.
Qualcomm has faced anti-trust investigations in the European Union, Japan and the Republic of Korea. In 2009, the ROK's anti-monopoly department imposed a $208-million fine on Qualcomm for its unreasonably high charges. But sadly it didn't teach the US company a lesson. The high fine imposed by the Beijing authorities on Qualcomm indicates the huge value and potential of the Chinese mainland market.
Developing orderly and free market competition is important for an emerging economy like the mainland. SEP does need to be protected. But barriers built by main SEP holders for other companies are not just unfair, but also retrogressive for the development of innovative technology.
To maintain the right environment for free and fair market competition by eliminating detrimental elements, the NDRC investigation has concluded that the resolution agreement it has reached with Qualcomm is of great significance not only to China but also to the rest of the world.