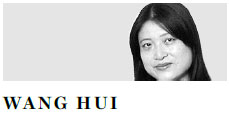 In some of the worst cases, reporters have even been involved in bribery and blackmailing.
Last year, Chen Yongzhou, reporter for the New Express newspaper in southern Guangdong province, was sentenced to a year and 10 months in prison for taking bribes and writing unverified reports that defamed a listed company. Zhuo Zhiqiang, a co-writer of one of the stories, received a 10-month jail term.
Also last year, a few business editors and reporters at 21cbh.com were arrested for an alleged scam in which suspects collaborated to extort money from companies in return for favorable coverage.
Incidents like these have tarnished the image of the media sector and eroded social credibility in the profession. Chen's case was regarded as among the top 10 scandals in China in 2013.
To cultivate a healthy environment for the media, the country has launched a series of campaigns as well as adopted various measures to weed out false reports and curb different forms of media violations. Media outlets have been repeatedly urged to enhance their management, plug loopholes in their supervision, as well as abide by media ethics to the letter.
While such a top-down approach is highly necessary, the readers and audience should also be encouraged to supervise the content of both traditional and new media. After all, any quality journalistic work should be able to endure the scrutiny of its recipients.
The author is a senior writer with China Daily
wanghui@chinadaily.com.cn