Media key to China-India relations, minister says
Mistrust from decades past should be set aside, editor of century-old newspaper tells forum
Media organizations in China and India should not mislead the public by overemphasizing negative news about each other, a top Chinese press official said.
Jiang Jianguo, minister of the State Council Information Office, said on Sunday that news media should offer timely and accurate information, avoid misunderstandings and help advance relations between the two emerging economies.
"Harmonious coexistence, joint cooperation and common development between the 'Chinese dragon' and the 'Indian elephant' will create a better life for the 2.5 billion people in our two countries, bring prosperity to Asia and provide opportunities to the world," he said.
Jiang made the remarks in his keynote speech at the opening ceremony of the second India-China Media Forum in Beijing. The forum, jointly hosted by the information office and the Indian Ministry of External Affairs, attracted more than 120 participants, including delegates from 40 leading Chinese and Indian media organizations, as well as scholars and government officials from both countries.
In his speech, Jiang called on the media in both countries to play a constructive role by reporting more on flourishing China-India economic and trade ties.
Jayanta Ghosal, a senior editor of Ananda Bazar Patrika, a Kolkata-based newspaper with a history that spans a century, said the two countries and their media should set aside disputes and seek common interests in economic growth.
"We have to accept that since 1962 there was some mistrust," he said, referring to the war between China and India. "But now we are living in 2015, and the history should not block our future relationship. Media cannot change history, but media can enhance and motivate good relations."
Jiang said both countries are now at a critical stage of development, as the Chinese are striving to realize the Chinese Dream and the Indians are going all out to achieve their growth targets.
In her speech at the opening ceremony, visiting Indian External Affairs Minister Sushma Swaraj characterized the forum as a platform to encourage media appreciation and understanding.
"As our strategic and cooperative relationship deepens in the bilateral domain and expands regionally and internationally, it is vital that our people have a good understanding of each other's interests and viewpoints," she said.
India will make it easier for Chinese companies to do business there, and China should give similar encouragement to Indian companies to expand in China, she said.
During the forum, senior editors from media organizations of both countries shared their ideas on topics including the role of media in promoting China-India bilateral ties and the opportunities and challenges for media cooperation presented by the growth of new media.
Gao Anming, deputy editor-in-chief of China Daily, said media organizations in the two countries should explore new channels for communication and collaboration, such as increasing exchanges of journalists, articles and story ideas as well as carrying out joint interviews.
Most of the media workers in China and India have never visited the other country, making misunderstandings unavoidable, he said. Media organizations could enhance cooperation through measures such as employing senior editors from the counterpart country, he added.
Creating the forum was one of the agreements reached during Premier Li Keqiang's visit to India in 2013. The first forum was held in September that year in New Delhi, India.
anbaijie@chinadaily.com.cn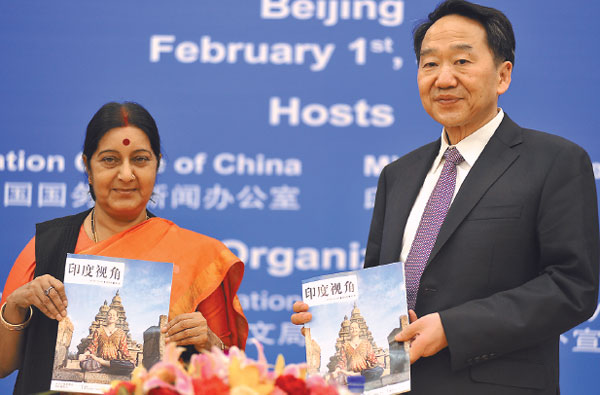 Jiang Jianguo, minister of the State Council Information Office, and Sushma Swaraj, India's minister of external affairs, show the new Chinese edition of India Perspective magazine on Sunday during the India-China Media Forum. Wei Yao / for China Daily