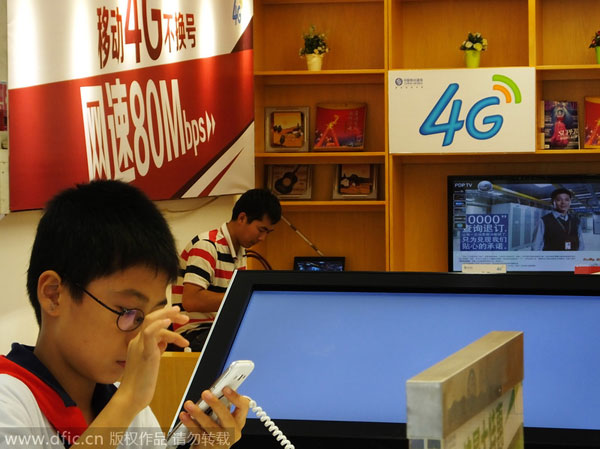 A schoolboy tries smartphone model at a China Mobile outlet in Guangzhou, Guangdong province, Oct 31, 2013. [Photo/IC]
Vacations are supposed to be welcome by children and parents both. But they seem to have become a source of tension for parents, worried as they are about their children spending hours on iPads and mobile phones, surfing the Internet or playing online games.
Their concern is not groundless, though, because addiction to electronic gadgets or the Internet could jeopardize students' health. For example, long hours of exposure to computer screens could damage their eyes and holding iPads and mobile phones could lead to fatigue in the tendon sheath, and eventually tenosynovitis. And since electronic products are radioactive to different degrees, the longer one uses them, the more health damage they can cause.
Besides, if children continue playing online games late into or throughout the night, they will upset their circadian rhythm and not get enough rest, and thus become more vulnerable to illness. More importantly, spending hours on electronic gadgets is a sheer waste of time not only because the same time could be spent more productively, but also because it hinders face-to-face interaction with parents and peers.
The disadvantages of addiction to electronic gadgets cannot be overlooked, yet in this age of information it is not only difficult but also unnecessary to keep children away from them - you don't want your child to be tech-ignorant in times when gadgets can help them access favorable information.
Many salutary games and software can be used to help improve children's knowledge, develop their intelligence and make them learn skills. And quite a few online education platforms offer students high-quality courses during vacations that can enhance their knowledge and teach them life skills.