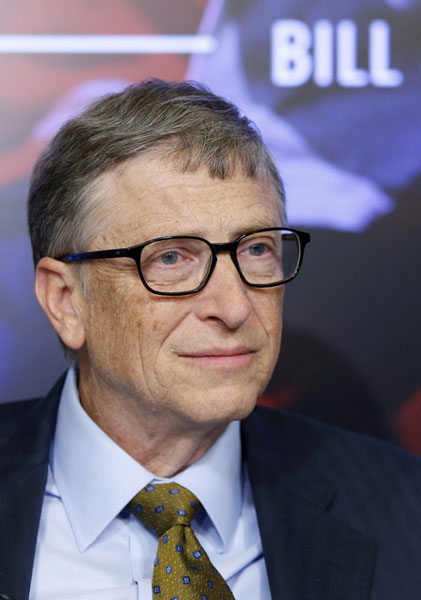 Bill Gates attends a debate on the 2030 Sustainable Development Goals in Brussels January 22, 2015.[Photo/Agencies]
Bill Gates stands atop Forbes magazine's annual list of the world's richest people, as Facebook Inc's Mark Zuckerberg joined the top 20 and basketball star Michael Jordan plowed new air by making the list for the first time.
Gates' net worth rose to $79.2 billion from $76 billion a year earlier, putting the Microsoft Corp co-founder at the top for the 16th year in the last 21, Forbes said on Monday.
Mexico telecommunications mogul Carlos Slim Helu ranked second, worth $77.1 billion, while Berkshire Hathaway Inc ren Buffett was third, at $72.7 billion.
Amancio Ortega, the Spanish founder of Inditex SA, which includes clothing retailer Zara, was fourth at $64.5 billion, while Oracle Corp Chairman Larry Ellison was fifth at $54.3 billion.
Buffett's fortune grew $14.5 billion from a year earlier, more than anyone's else, despite his having donated $2.8 billion to several charities last July.
Aliko Dangote, a Nigerian who became Africa's richest man through cement manufacturing and commodities such as flour and sugar, was the biggest loser, falling $10.3 billion to $14.7 billion.
Forbes identified a record 1,826 billionaires, up from 1,645 last year, worth a combined $7.05 trillion.