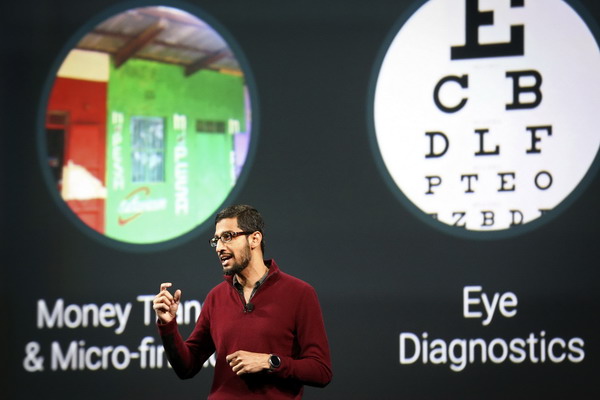 Sundar Pichai, Google's senior vice president of Android, Chrome and Apps, speaks during his keynote speech at the Google I/O developers conference in San Francisco June 25, 2014. [Photo / Agencies]
Google has planned to make a renewed push in areas like payments, commerce and enterprise apps this year, and would welcome the opportunity to reenter the Chinese market.
That's from Sundar Pichai, who became the company's senior vice-president of products in October, in an exclusive interview with Forbes magazine recently, vowing to step up efforts to monetize the hundreds of millions of people who use Android phones around the globe.
Pichai said that Google will begin showing ads for apps alongside searches on the Google Play store amid growing investor concern that Google's core business is slowing down.
"Users are looking for information, we provide them with organic information, but at the same time we allow companies to use sponsored ads to reach users too. We think the same model works very well for Play," he was quoted as saying by the magazine.
The product csar said that they have seen a lot of interest from Chinese developers regarding Google Play, because of the extent to which Android is used.
While millions of people in China have bought Android phones, those phones are not equipped with Google's mobile services, like Gmail, Maps and the Play Store.Google exited China in 2010. Since then, Google services have been largely blocked in the country.
"If we can figure out a model by which we can serve those users, it would be a privilege to do so. So I don't think of China as a black hole. I see it as a huge opportunity in which we are playing as an enabling platform today and hopefully we have a chance to offer other services in the future," said Pichai.
According to the magazine, Pichai also said in the interview that Android, which has long been seen by developers as lagging far behind the iPhone in terms of monetization, is closing the gap with iOS.
Google paid $7 billion to developers whose apps were sold in the Play store in the past year, while Apple paid $10 billion to developers during 2014, the report said.
Pichai said he saw a lot of momentum in Google's trajectory, and felt upbeat that Google would be able to monetize effectively for developers. "It's not just applications; the content ecosystem is getting built up."