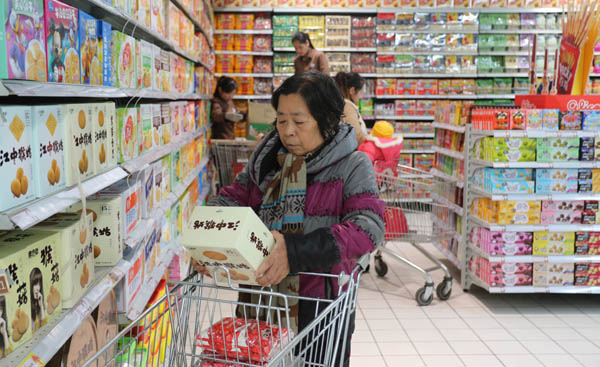 Consumers shop in a supermarket in Xuchang city, Central China's Henan province, Dec7, 2014. [Asianewsphoto by Geng Guoqing]
Per capita urban disposable income in Shanghai, the nation's financial hub, hit 47,710 yuan ($7,611) last year, eclipsing Beijing to secure the first place nationwide, the Guangming Daily reported on Thursday.
Beijing and Shanghai are immediately followed by Zhejiang province, all three exceeding 40,000 yuan in 2014 with a growth rate of around 8.9 percent from a year earlier.
Gansu province in western China came in at the bottom of the list, with per capita disposable income standing at 20,804 yuan during the same period – much lower than the national average.
Data from the National Bureau of Statistics show that China's urban disposable income increased 6.8 percent (adjusted for inflation) year-on-year to reach 28,844 yuan, almost tripling that of rural areas during the same period.
The huge income gap between the country's eastern and western regions, urban and rural areas, has been a big headache of the Chinese authority.
Experts say income disparity comes not only from unequal opportunities, but also the cost of imbalanced distribution of resources and rent-seeking in China.
"Such situations could likely persist in a few years to come despite the country's efforts", Li Shi, professor at Beijing Normal university, was quoted as saying in a People's Daily report.
There's little sign of a widening or narrowing trend so far, he added.
Growth targets of urban and rural incomes have been lowered this year in 26 provincial regions, in a sign of a more pragmatic outlook on the economic situation.
Western areas, in particular, made the biggest reductions. Sichuan and Gansu cut their growth targets by four percentage points, while Shaanxi, Inner Mongolia and Guangxi Zhuang did so by three percentage points, according to Xinhua News Agency.
Many provincial-level regions put their residents' income growth target below their economic growth rate targets which have already been lowered due to lackluster domestic demand and dampened exports.
Income growth reduction was a reasonable answer to the "New Normal" situation of China's economy, said the Guangming Daily report, citing Zhang Liqun, a research fellow at the Development Research Center of the State Council, China's cabinet.