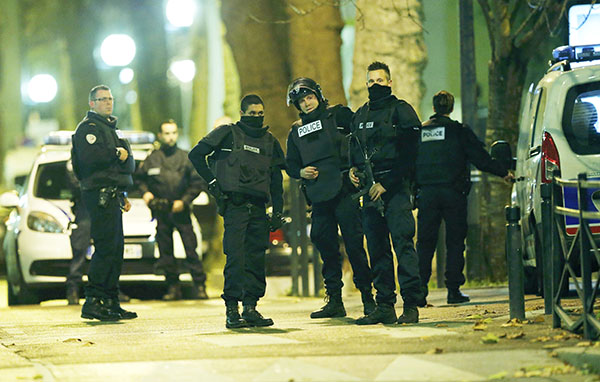 French special police forces secure the area as shots are exchanged in Saint-Denis, France, near Paris, November 18, 2015 during an operation to catch fugitives from Friday night's deadly attacks in the French capital. [Photo/Agencies]
PARIS - Shots rang out in the Saint Denis area of northern Paris early on Wednesday as special police forces launched an operation to catch one of the suspects from Friday night's shooting in the French capital, a police source told Reuters.
French TV station BFMTV said some police had been wounded during the operation.
BFMTV and iTele both showed amateur video of the shootings and cited witnesses in the area saying they had heard sporadic gunfire since around 4:30 a.m. (0330 GMT).
The operation took place near the Stade de France soccer stadium where three suicide bombers detonated their explosive belts and killed a passerby.
In all, at least 129 people died in Friday's attacks, which have been claimed by the Islamist militant group Islamic State. Seven militants died in the assault. Two are known to be on the run.
Earlier, two Air France flights en route to Paris from the United States were diverted because of security issues, the Federal Aviation Administration (FAA) said.
An Airbus A-380 that departed from Los Angeles landed in Salt Lake City, where passengers and crew were being deplaned and transferred to the terminal, an FAA spokesman said.
A separate flight that left Dulles International Airport outside Washington was diverted to Halifax International Airport in Nova Scotia also because of an unspecified security concern, the FAA said.