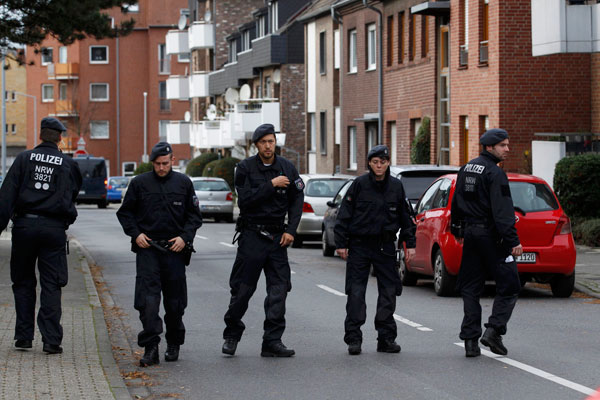 Police stand guard outside as officers investigate a residential building where arrested suspects linked to Paris attacks are thought to live, in Alsdorf near Aachen, Germany November 17, 2015.[Photo/Angencies]
Updates:
Seven people arrested by police in western Germany on Tuesday do not appear to be directly linked to the militant attacks in Paris last Friday, German Interior Minister Thomas de Maiziere said, adding that at least one of the attackers was still on the run.
"It remains the case that at least one perpetrator is on the run," de Maiziere told a news conference in Berlin.
Turning to the arrests made near the western German city of Aachen on Tuesday, he added: "The assessment is not yet completed. But as things stand now, it does not appear to be the case that this is directly related to the attacks in Paris."
DUESSELDORF, Germany - Police in the western German city of Aachen arrested seven people, at least three of them foreign citizens, on Tuesday in an operation linked to the militant attacks last week in Paris that killed 129 people.
A special police unit overpowered two women and one man outside a job centre in Alsdorf, a small town near Aachen close to Germany's border with Belgium and the Netherlands.
"After the terror attacks last Friday in Paris and the search for the perpetrators and the people pulling the strings, police in Aachen got a lead to suspicious individuals in Alsdorf," a police statement said.
A spokesman said the three were foreign citizens but declined to elaborate on their identity pending investigations.
Later on Tuesday, police arrested two more people in Alsdorf, the statement said, giving no details. A few hours later, two more suspects were arrested in Alsdorf, bringing the total number of arrests to seven.
A manhunt is on in France and Belgium for one of the eight attackers involved in suicide bombings and shooting attacks on restaurants, a music hall and a sports stadium in Paris on Friday night.
European search efforts are focusing on Belgian-born Frenchman Salah Abdeslam, 23, who investigators say escaped back to Belgium on Saturday after the attacks. Austria's interior ministry said earlier he had entered the country from Germany in early September, telling authorities he was on holiday.
France and Russia both staged air strikes on Islamic State targets in northern Syria on Tuesday as Paris formally requested European Union assistance in its fight against the group responsible.