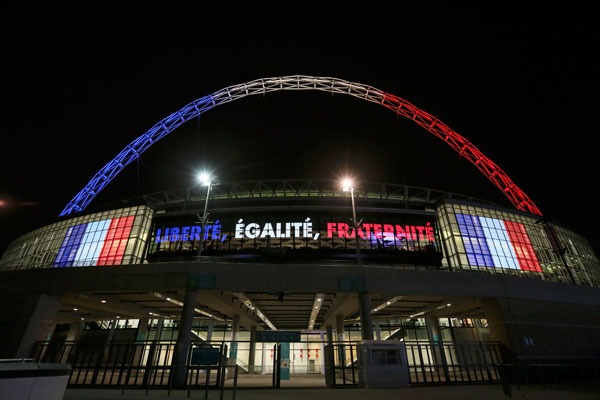 The arch at Wembley stadium is lit in the colours of France's flag, and France's motto "Liberte, Egalite, Fraternite" emblazoned on Wembley stadium in north London, November 16, 2015.[Photo/Agencies]
LONDON - Armed police will patrol around Wembley stadium on Tuesday, as England and France play a friendly soccer match just days after militants launched suicide bombings outside the Stade de France as part of a wave of attacks in Paris.
Common in European countries like France, armed police are generally a rare sight in Britain although they did patrol the London Olympic Games in 2012 and have become more common in recent years due to fears of a militant attack.
Prime Minister David Cameron, Mayor Boris Johnson and Prince William are expected to attend the match where English fans will be encouraged to put aside traditional football rivalry and sing the French national anthem.
London's Metropolitan Police said they were mobilising more police ahead of the match, due to start at 2000 GMT.
"This will include extra, highly visible armed officers who will be patrolling around Wembley Stadium," said Deputy Assistant Commissioner Peter Terry.
Police in France conducted 128 raids overnight following the wave of shootings and suicide bombings at restaurants, a concert hall and a sports stadium around Paris on Friday which killed at least 129 people.
A match between Belgium and Spain due to take place in Brussels, where police have been carrying out raids in the wake of the Paris attacks, has been postponed for security reasons after the government advised against going ahead.