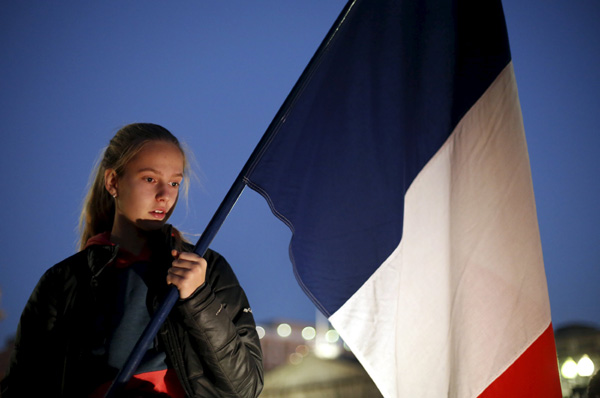 A girl holds a French flag during a vigil for the victims of the Paris attacks, outside the White House in Washington November 14, 2015. [Photo/Agencies]
No language can be strong enough to condemn Friday's terrorist attacks in Paris which killed 129 people and left at least 350 injured. As the rest of the world shares the grief of the French people, the international community should rally more closely to combat terrorism.
This is the second terrorist attack in Paris this year, following the one in the office of Charlie Hebdo magazine on Jan 7 that claimed the lives of 12 people. This is also the worst violence France has suffered since World War II.
China has joined the international community in condemning the brutal killings of innocent people by offering its deep condolences to the families of the victims, and thrown its weight behind French President Francois Hollande who has vowed to fight terrorists "without mercy".
As many feared, the Islamic State group which holds large swathes of land in Syria and Iraq has claimed responsibility for the attacks, according to an online statement distributed by its supporters on Saturday. This is outrageous: Despite the efforts of the international community to eliminate the IS, the terrorist group still has the ability to organize and carry out attacks beyond its areas of influence.
Given the magnitude of the group's brutality and its uncanny ability to strike at an unexpected time and unexpected place, the importance of security for countries which face a high potential risk of terrorist attacks can never be overstated. Home to a large number of Muslim immigrants, especially from North Africa, France is also a member of the US-led coalition which has been conducting air strikes against IS targets in Syria and Iraq since September last year.