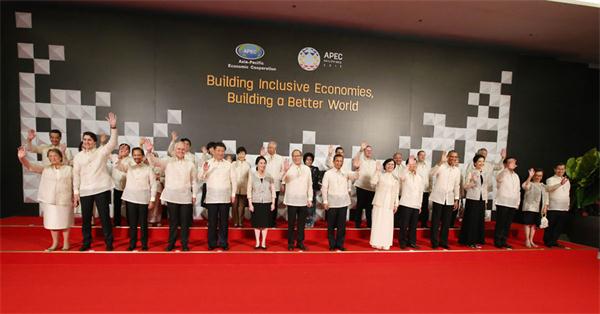 Chinese President Xi Jinping (5th L, front) poses for a family photo with other leaders and their spouses before a welcome dinner of the Asia-Pacific Economic Cooperation (APEC) summit in Manila, the Philippines, Nov. 18, 2015.[Photo/Xinhua]
Founded in 1989, the 21-member Asia Pacific Economic Cooperation annual meeting starts on Wednesday in Manila. Despite the location, Beijing and Manila have agreed that the political disputes over the South China Seas will not be on the agenda, as this is an economic conference.
Yet politics can hardly be completely off the table at the Manila meeting, as leaders of America, China and Russia attend with President Obama wanting to take forward the Trans Pacific Partnership (TPP) which already has 12 APEC members and Indonesia, the Philippines and South Korea considering joining.
The biggest player in the Asia region, China, is not a member of the TPP which is led by the US with a rigorous trade pact, offering tariff reductions and preferential access to those admitted, with a high degree of transparency in government procurement policies and electronic commerce.
Beijing will thus wish to continue to promote a complementary concept, a Free Trade Area of the Asia Pacific (FTAAP), which is broader, perhaps with looser rules and which may include non APEC members such as India. Trade and investment are strongly connected - for example infrastructure investment in an Asian member could increase its efficiency and allow it to benefit from increased exports in a new trade agreement and it does seem strange that the Beijing-based Asian Infrastructure Investment Bank (AIIB) would be leading that investment initiative while not being at the heart of, let alone not involved in, what might become the region's major trade agreement.
A major attraction of the TPP to Asian members is access to the American market, but Congress has yet to approve the USA's participation. China may be able to take advantage of that.
Depending on which trade agreement becomes dominant, APEC's relevance as an organization will be affected. It operates with limited administrative support and limited rules of cooperation. If TPP comes to dominate, it will come with a large secretariat and strict rules of enforcement - it could relegate APEC to a secondary role in the future.