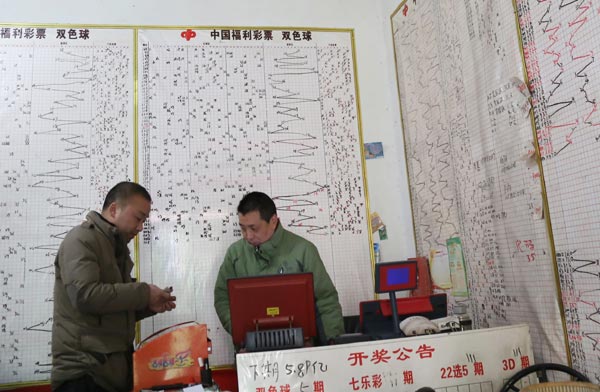 A lottery station in Wenxian county, Henan province. [Photo/China Daily]
THE MINISTRY OF FINANCE recently said at least 20 percent of the revenue derived from lottery sales will be used on public welfare. But that will not solve the problems in the domestic lottery industry, a Beijing Youth Daily commentary says:
There are long-standing problems in the domestic lottery industry. In particular, the State-owned agencies that manage lottery sales take a high percentage of the revenues for their own expenses and the whole industry lacks transparency.
In some extreme cases, while the lottery contains the words "social welfare" in its name, the money is spent on purchasing luxurious cars for the lottery officials, instead of being used to help those in need of help.
The national auditing report on the lottery, published on June 28 this year, best explains how serious the problems are: 16.9 billion yuan ($2.68 billion), or 25.7 percent of the total funds, went to the lottery officials' facilities such as cars, houses, even cash. The Ministry of Civil Affairs, which led the auditing, said all problems had been corrected, but without mentioning if the officials concerned had been punished.
And the latest move by the Finance Ministry fails to solve these problems. It has set an upper limit of 15 percent for the management fees of the lottery agencies, which is still much higher than the 10 percent limit in many developed countries. More importantly, it says nothing about improving the transparency of the lottery industry, which means it will be difficult to determine whether the new rules are being followed.
Although the ministry has carefully avoided mentioning corruption, it is clear that it is rampant in the domestic lottery industry. Too many corrupt officials have got too much money from this opaque industry, and their illegal deeds hurt the most vulnerable in society because part of the lottery revenue is supposed to be spent on social welfare for the needy.
It is time the disciplinary departments looked at the lottery industry. The top leadership has vowed that there would be no untouchable area for the anti-graft campaign; the lottery industry should not be the first.